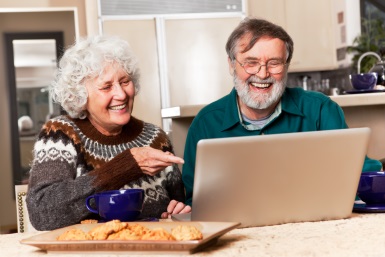 February 19, 2019
Seniors at retirement homes can use computers to stay connected
For Adult Children, retirement community, retirement home, social activities
Retirees are increasing their use of the Internet, smartphones, virtual assistants and other communication technology, and leading retirement homes recognize the benefits and encourage it.
The following survey results were highlighted by the Pew Research Center in its 2017 report, "Tech Adoption Climbs Among Older Adults":
Two-thirds of seniors 65 and older use the Internet.
Half of seniors use high-speed internet at home.
Four in 10 own smartphones.
One in 3 uses social media.
One in 3 owns tablet computers.
At Ecumenical Retirement Community, we see how helpful using computers can be for seniors. That's why we offer all residents of our retirement home access to free WiFi. Those who don't have computers of their own are welcome to use one of our on-campus computer centers. Their guests are permitted to use the centers as well.
Computers offer wellness benefits to plugged-in retirees
Computers actually have wellness benefits for seniors. AARP reports that Internet use by older Americans helps meet the following needs of senior living:
Personal fulfillment – Technology use helps seniors remain active by learning new information, shopping online, playing music and games, and researching family genealogy.
Health preservation – Studies show that online activity can help seniors sharpen memory and decision-making skills, as well as reduce depression.
Social connections – Email and social media let seniors communicate with family and friends. Keeping in touch with loved ones can help them avoid loneliness and isolation.
In addition, as part of our selection of campus activities, Ecumenical residents can choose to participate in a variety of computer games, such as interactive bowling, golf and tennis.
For residents at our retirement home who use email and the Internet, we warn them that scammers consider them easy targets. Though we may think of seniors as being scammed in person or by phone, the Internet and, in particular, email are used as well. Most at risk are seniors who show signs of dementia, but cautious retirees can be victimized, too, if they let down their guard. For more information on scams, see our blog post "Don't let scams threaten financial security during senior living years."
The best retirement homes support and assist residents with all aspects of their lives. If you or a loved one is looking for a community that promotes residents' mental, spiritual and physical health, we hope you will consider Ecumenical in Harrisburg, PA. We offer several lifestyle options and levels of care that meet the needs of most seniors. Please contact us to learn more about our retirement home or schedule a visit. You will find residents here with full lives in a family-oriented, caring environment.
Contact Us