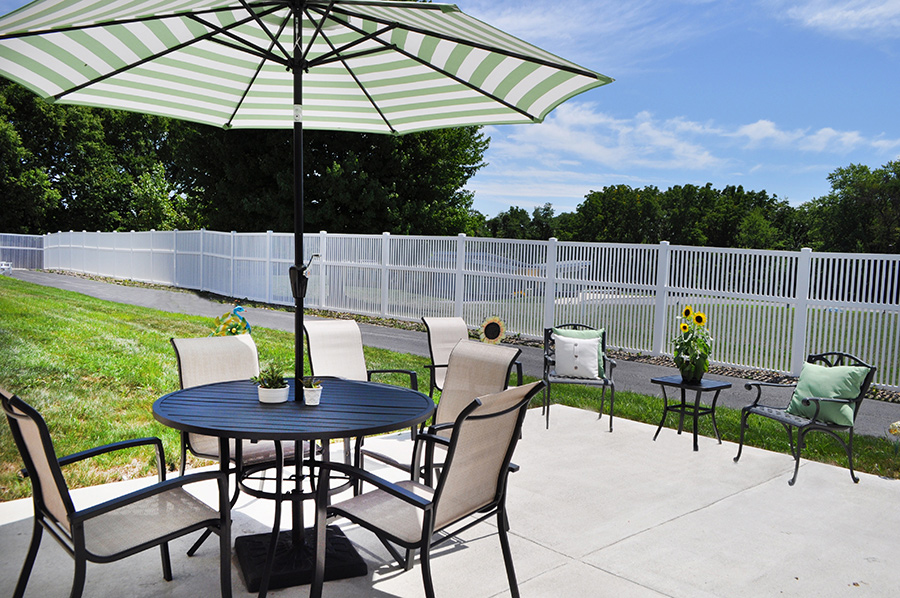 June 29, 2023
Safety Measures in Dementia Care Homes Give Peace of Mind to Residents' Families
dementia
Peace of mind is why many families of loved ones with memory issues choose dementia care homes. Keeping the person with dementia safe is often too difficult to do at home. Dementia care homes are designed to provide memory support in a safe and secure environment.
Here are a few ways dementia care homes keep residents safe and give families peace of mind.
Physical and technological measures
Dementia care homes provide a wide range of physical and technological measures to reduce the risk of wandering, falls, confusion and other safety risks. These include controlled access (including doors and windows), security cameras and enclosed recreation areas, like courtyards and patios. Accessibility features (wider doorways, wheelchair-navigable spaces and handrails), common not only in memory support but in other types of senior living communities, also increase safety for residents.
One of the biggest concerns for residents of dementia care homes is wandering. According to the Alzheimer's Foundation, 6 in 10 people living with dementia will wander at least once and it can happen at any stage of the disease. The risk of wandering, or becoming lost and confused, can be life-threatening. New technology, such as a wander guard pendant system, helps monitor those residents who are most likely to wander.
Staff support
But physical measures and technology are only part of the safety measures provided by dementia care homes. The best dementia care homes, like Ecumenical Retirement Community in Harrisburg, PA, provide round-the-clock staff support with medical access. An individualized care plan provides additional help with daily activities, hygiene, continence management and personal care. By building relationships with residents, staff can improve residents' safety by:
Identifying those at risk of wandering.
Reducing stress and anxiety in the person with dementia.
De-escalating crises which may lead to injury.
Creating a warm, familiar environment.
Enhancing connections and communication.
Providing opportunities for meaningful activities.
A caring and knowledgeable staff can also provide reassurance to family members concerned about their loved ones' well-being.
Therapeutic programming in dementia care homes
According to the Alzheimer's Foundation, providing opportunities for the person with dementia to engage in structured, meaningful activities may reduce the risk of wandering. This is especially important during the time of day known as "sundowning", from dusk to dawn when many people with dementia experience increased confusion, difficulty sleeping, anxiety, agitation, hallucinations, pacing and disorientation.
Activities may include:
Crafts
Playing memory games
Socializing and sharing memories
Watching movies
Fitness
Brain strengthening games
Memory support in Harrisburg, PA
For more than 25 years, Ecumenical Retirement Community has been one of the best memory care facilities in Harrisburg, PA. Our Connections Neighborhood is designed to deliver memory support services in a safe, secure and comforting environment to enhance the quality of life for our residents.
Safety features include:
A secured neighborhood setting with round-the-clock staff support.
A wander guard pendant system that monitors high-risk residents for added security.
Rooms, bathrooms and common areas designed to allow us to properly care for residents needing adaptive equipment.
A large outdoor fenced courtyard that provides safe walking paths and areas to visit or simply enjoy a nice afternoon on the patio.
Caregivers trained in memory support techniques, including the Validation Method, that improve communication.
Programs designed to provide residents with memory challenges creative stimulation, brain strengthening games and fitness to support physical health.
Ecumenical's Connections Neighborhood includes private and shared friendship suite living options. Schedule a visit today or reach out to our friendly co-workers to learn more.
Contact Us