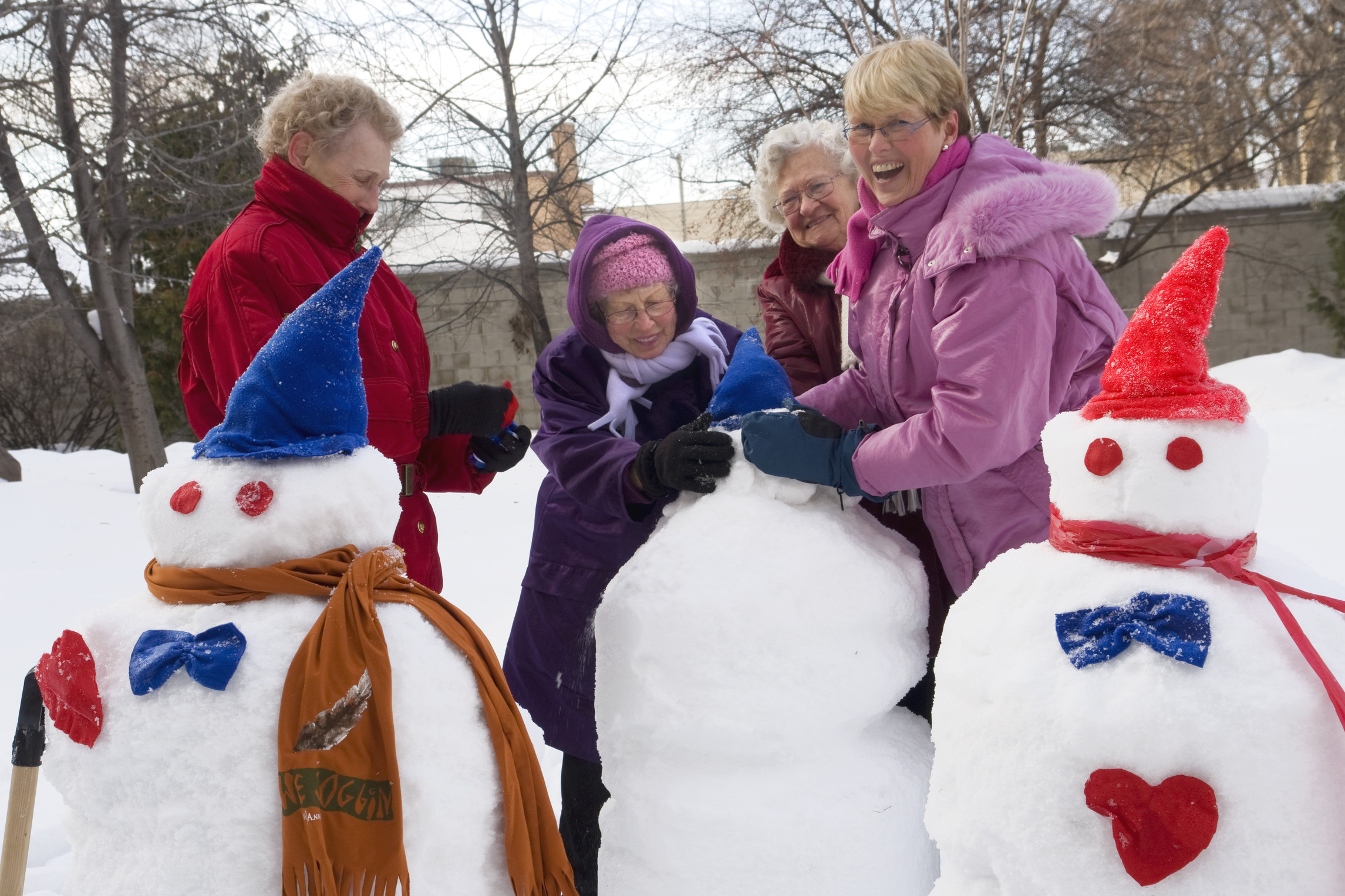 October 18, 2023
Brutal Winter? Elderly Care Facilities Offer Peace of Mind
The Old Farmer's Almanac says, "Get ready for a Winter Wonderland!" The 2023-24 winter weather forecast predicts a cold, snowy winter for Pennsylvania. With winter approaching, it is only natural for us to worry about our aging loved one, especially if they live alone at home. The season offers more challenges than summer, fall or spring. At holiday gatherings, aging is often more apparent as we compare our parents to the younger versions of themselves of our holiday memories. It can be quite unsettling. Elderly care facilities can offer peace of mind for families and aging loved ones alike. Even if the time isn't right for a complete move-in, a winter respite stay can provide fresh insight to what life in a senior living community could be.
Stay warm
Staying warm is vital for seniors. As we age, we lose body heat faster than in our youth. Medical conditions like thyroid problems and diabetes can make it difficult to keep warm. Those with memory loss may forget to dress appropriately when going outside. A body temperature lower than 95° can cause liver damage, a heart attack or kidney problems. Even room temperatures at 65° can cause dangerous hypothermia.
Sometimes older adults turn the heat down to save money. Or they might use a space heater, which can be dangerous as they can cause fire or carbon monoxide poisoning and can be a trip hazard.
Elderly care facilities maintain a comfortable temperature for seniors. Ecumenical Retirement Community includes heat in the monthly rent, keeping costs the same no matter how cold it gets. And emergency plans help keep residents warm and safe during winter power outages.
Forget winter chores
Winterizing a home can be a pain, literally and figuratively, especially for seniors. Raking leaves, putting away patio furniture and preparing your garden for winter can be exhausting and cause backaches and sore muscles. And when winter blusters in, shoveling and de-icing walkways can be brutal. Seniors frequently experience slips, falls, and even heart attacks.
That's why making the transition to senior community living early, before the need to winterize your home, makes sense. Elderly care facilities take care of the hard work involved in winter maintenance, with no extra costs.
Avoid driving in bad weather
One of the biggest concerns for seniors and their families in the winter is driving in bad weather. Getting out to get groceries and going to medical appointments can be challenging with slippery roads, erratic drivers and drifting snow. Slower reflexes and poor vision can also make driving dangerous for our aging loved ones.
Many elderly care facilities provide transportation to shopping, events and medical appointments. Dining rooms serve up healthy meals all professionally prepared, so there is no need to brave inclement weather for groceries. Amenities like fitness programs and salon and spa services add to the convenience. At Ecumenical Retirement Community, our seniors and their family members enjoy the peace of mind of knowing medical care is readily available 24/7 if the need arises.
Establish connections
Staying in and isolating during the winter may be good for bears, but not humans. As social creatures that crave connection, not being able to get out in winter can cause the blues or even depression for seniors. Elderly care facilities offer opportunities to interact with neighbors in the halls or the dining room (and don't forget happy hours). Programs and events keep residents engaged with the community.
Fall is the perfect time to transition to senior living. Schedule a visit today to see all that senior living can be! And be sure to ask about our Winter Respite program for those who want to short-term trial over the winter season.
Ecumenical Retirement Community
We believe in the importance of a life well lived. Our focus is to help residents live actively and affordably. Ecumenical is an all-rental retirement community with a variety of available apartment styles and customized pricing to suit your needs and preferences. No buy-in required! Learn why Ecumenical Retirement Community is considered one of the best retirement communities in Harrisburg, PA. Reach out to learn more.
Contact Us