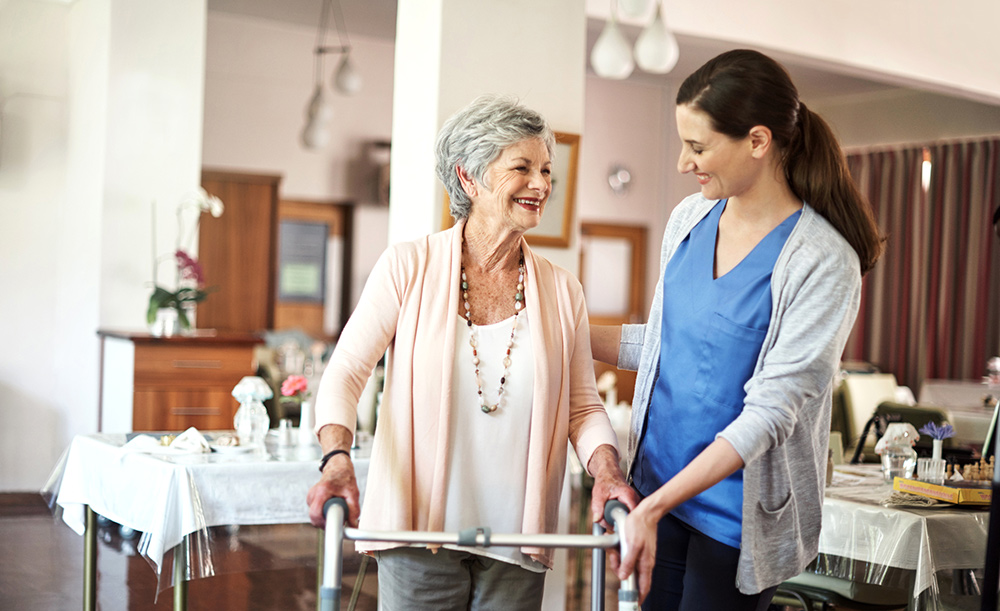 October 15, 2022
What's the Difference Between Dementia Care Homes and Skilled Nursing Facilities?
Do you have a loved one with memory loss who needs long-term support? When considering your options, it is important to know that there is a difference between dementia care homes and skilled nursing facilities.
Memory support in dementia care homes
Seniors with dementia who require help with daily life need specialized therapeutic support. "Memory care is designed to provide a safe, structured environment with set routines to lower stress for people with Alzheimer's or dementia," according to AARP.org. "Employees provide meals and help residents with personal care tasks, just like the staff at an assisted living facility, but they are also specially trained to deal with the unique issues that often arise as a result of dementia or Alzheimer's. They check on residents more frequently and provide extra structure and support to help them navigate their day."
According to the Mayo Clinic, the benefits of individualized memory support that dementia care homes can provide are:
Specialized staff training in memory support
Meaningful engagement and activities based on the individual's preferences and strengths
Visual cues, such as signs or pictures, to support independence
Enhanced safety measures such as secured exits
Ecumenical Retirement Community's memory support staff is trained in the Validation Method to enter the reality of residents with dementia rather than try to force them back into ours. This technique and philosophy of care helps alleviate anxiety and frustration in the individual with memory loss and can enhance connections. Ecumenical co-workers also use the Compass Program, created by partner PowerBack Rehabilitation, to identify the resident's needs using a color-coded system. This helps staff communicate effectively and provide appropriate support for the person with memory loss.
Skilled nursing facilities
Skilled nursing facilities (SNFs) provide round-the-clock medical care for patients with serious illnesses and conditions. According to Medicare.gov, "Skilled care is nursing and therapy care that can only be safely and effectively performed by, or under the supervision of, professionals or technical personnel." Because the emphasis is on providing nursing, the environment in a skilled nursing facility is more clinical than in home-like dementia care homes. In addition to skilled nursing, services may include a semi-private room, meals, medical treatment, physical, occupational and speech therapy, dietary counseling, medical supplies and medicine.
When should you consider memory care for your loved one with dementia?
A "little forgetfulness" may seem like a normal part of aging, but it may be a warning sign. Here are some indications your loved one may be developing dementia:
Worsening of memory loss and frequent confusion or agitation
Clear change in behavior, such as self-neglect or a decline in basic hygiene
Physical health decline
When a loved one's symptoms of dementia become overwhelming for family caregivers, it may be time to consider memory care options. At Ecumenical Retirement Community, our memory support services include:
Personalized memory support plans
A choice of either a personalized care or secured neighborhood setting
Brain fitness activities, social programs and recreational opportunities
Accommodations for couples with different levels of support needs to live together
Professionally prepared meals served daily
All-inclusive rental pricing that includes heat, air conditioning, basic cable and electric
Salon and spa services
Staff support and medical assistance available 24 hours a day
Still have questions about the difference between dementia care homes and skilled nursing facilities?
Just ask us. Whether you have questions about memory care, skilled nursing or senior living options in general, or specific questions about our community, we can help.
For more than 25 years, Ecumenical Retirement Community has been providing affordable senior living in Harrisburg, Pennsylvania. Contact us today to schedule a visit and see how our residents live life with purpose.
Contact Us