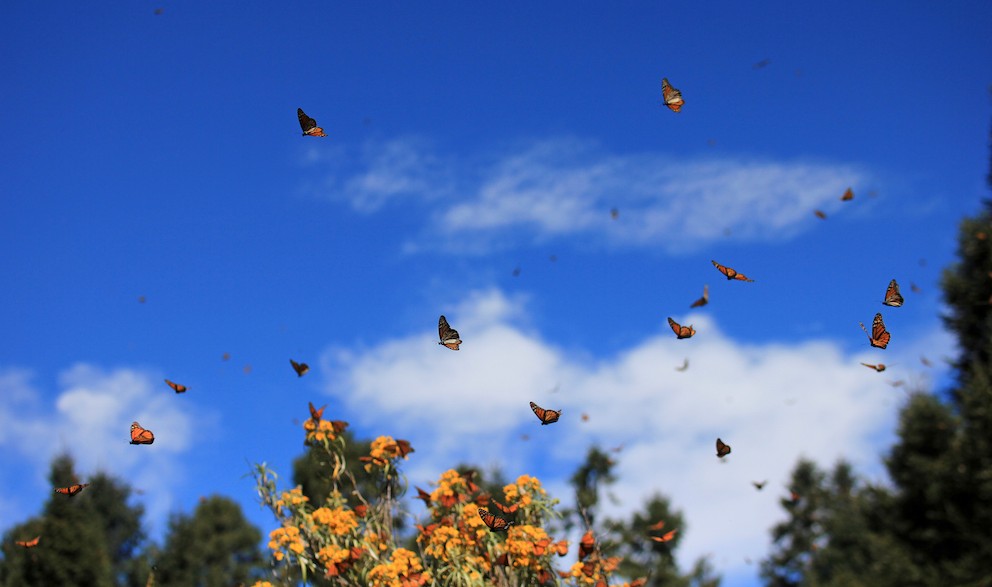 September 11, 2017
Visit a retirement community this fall—you might discover a butterfly rest stop
"It was a beautiful bright autumn day, with air like cider and a sky so blue you could drown in it." 
This word picture by writer Diana Gabaldon illustrates an image of nature that beckons us to leisurely step outdoors. And though not every fall day is so enticing, we can take advantage of ones that are and enjoy the welcome mix of sunshine and cool breezes.
In Pennsylvania, retirement homes offer seniors the opportunity to enjoy the beauty of autumn in settings that are picturesque, secure and tailored to their personal needs. With safe walking paths, comfortable benches and the shelter of colorful trees, senior living communities are designed for residents who want to exercise their bodies and refresh their spirits outdoors—before winter arrives!
If you visit Ecumenical Retirement Community in Harrisburg, PA, don't be surprised to see residents walking outside with their dogs on crisp, fall days. Ecumenical is a pet-friendly community and even offers pet care assistance if requested.
Whether walking, sitting in conversation with friends or enjoying a bit of quiet peace, Ecumenical seniors like being outside where they can enjoy walking paths, a picnic area and lovely gardens featuring native Pennsylvania plants.
Amid our greenery is our Butterfly Patch, an official, registered Butterfly Monarch Waystation, and autumn is the time to enjoy its part in a miraculous act of natural elegance. That's when monarch butterflies migrate from the U.S. and Canada to mountains in central Mexico for a warmer winter.
Our Butterfly Patch provides monarchs with milkweed to breed and produce offspring and nectar-rich flowers to sustain them during their flight of several thousand miles. Our residents take pride in maintaining this "rest stop" for monarchs to ensure their preservation and continuing migration.
If you' re looking for a retirement home and like taking in the beauty of nature—in the fall or during any season—we invite you to visit scenic Ecumenical Retirement Community. Whether you may be interested in our independent living community or a personal care home (similar to an assisted living facility), we can show you around and tell you about our many services and activities.
If you or a family member have health care concerns and are considering a skilled nursing facility, you may find that our physical support or memory care program can meet your current needs equally well. Talk with us to find out more.
We would be glad to show you senior apartments in our independent living community, as well as our personal care home. Please contact us to learn more about our senior living community and arrange a visit.
Contact Us