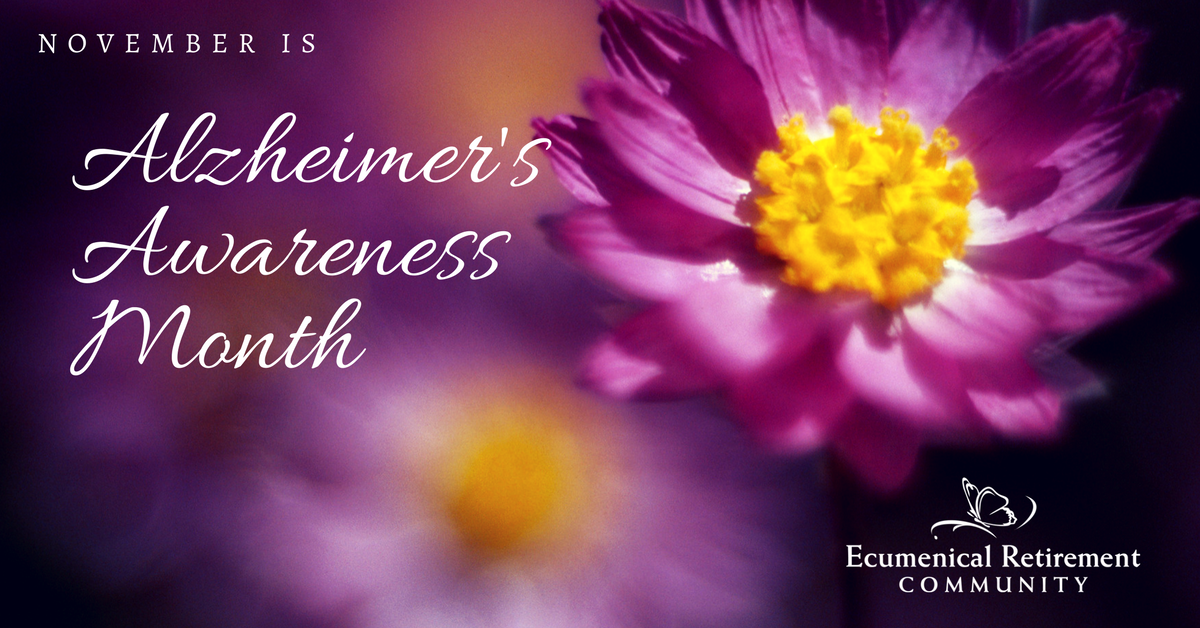 November 16, 2017
Validation offers compassion and understanding to seniors needing memory care
One in nine people age 65 and older, approximately 5.4 million Americans, have Alzheimer's disease, according to the Alzheimer's Association. In Pennsylvania, one in eight seniors are afflicted—more than 270,000 people.
In observance of Alzheimer's Awareness Month in November, Ecumenical Retirement Community wants to increase family awareness of the Validation Method of communicating with a loved one with Alzheimer's or other types of dementia.
Dementia is a condition of the brain that weakens an individual's ability to interact with others and engage in daily living activities. Among the most common symptoms are placing items in strange places and forgetting names of family members. As dementia continues, an affected person might exhibit inappropriate behavior, movement problems, disorientation or loss of communication skills.
In caring for and responding to disoriented seniors, the Ecumenical staff uses the Validation Method and encourages families to use it as well. This form of empathetic listening was developed in the '60s by Naomi Feil, who described those with dementia as "away from our present day reality … and in their own personal reality." Validation teaches caregivers to enter the perceived reality of those with memory loss rather than force them to accept the world as it is. Caregivers are trained to ask questions and listen patiently to help those with memory loss express concerns and frustrations. This means using open-ended questions, asking who, what, when, where, why or how. These questions, which can't be answered with a simple "yes" or "no," encourage persons with dementia to express themselves in a supportive, trustful setting.
For example, if Grandma is agitated as she waits for a visit from Grandpa (who died five years ago), don't upset her more by telling her that he died. Instead, engage with her and ask, perhaps, what he did for a living or how she first met him. This validates her perceptions and can reduce her related anxiety. Listening and responding without judgment reassures them that they are heard and respected and can reduce their level of worry.
At Ecumenical, Validation is part of our comprehensive memory support program, which engages and comforts residents through socialization and various activities. These include intellectual stimulation for brain fitness, specialized exercise programs and My Life Story projects to build meaningful connections.
Our caregiving team is trained in memory support techniques and provides this care within either a secure neighborhood or a personal care home. Our staff is alert to changes in memory and cognitive ability and adjusts residents' care, supervision and personalized support plans as needed.
Families searching for an assisted living, skilled nursing or dementia care facility in Harrisburg, PA might want to inquire about our services for seniors with dementia. Many families who thought their loved one with dementia required a nursing home have found their needs could be capably met by Ecumenical's personal care and memory support services.
If you're looking for a retirement community in central Pennsylvania for a married couple with different care needs, our retirement home also has an independent living community, with easy access to residents living in personal care or memory care.
Please contact us to schedule a visit to learn more about Ecumenical, meet our staff and become more familiar with our memory care program.
Contact Us