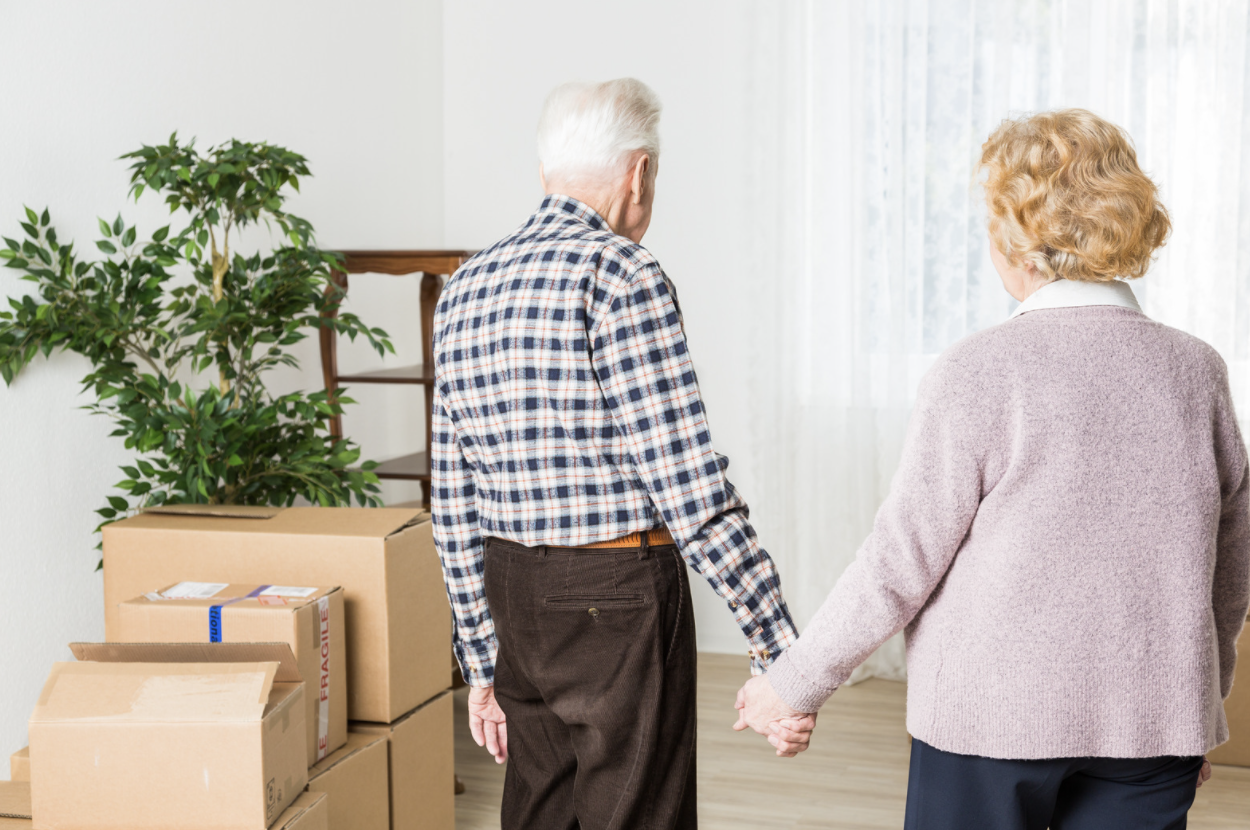 February 26, 2022
Tips for seniors downsizing to a retirement community
Choosing a retirement community is an exciting decision – but also one that comes with many to-dos. One of the biggest tasks seniors are faced with when moving into a retirement community is deciding what to take along. From large family heirlooms to smaller, everyday items, many seniors are surprised at just how many items can be in a home that aren't necessarily necessary. But downsizing to a retirement community doesn't have to be a difficult task if you have the right plan in place.
If you're in the midst of downsizing to a retirement community and find yourself asking, "What do I do with all of this stuff?" then this checklist is for you!
Create a timeline and plan
First thing's first – get a plan together! Here are a few questions to consider helping you get into the right mindset:
How much time do you have before the move?
Do you need the help of any family members or loved ones?
Are you planning on placing any larger or sentimental pieces in storage?
Can I afford the help of a moving company?
Once you have a few touchpoints together, you can create a timeline along with setting some goals along the way. Remember, downsizing to a retirement community can take a lot of time depending on just how much you are downsizing, so give yourself plenty of time to go through the process smoothly and efficiently.
Another helpful tip when downsizing for a retirement community is to set some ground rules on how to sort items. Here are some tips to better organize this process:
Start with unsentimental items
One of the hardest parts of downsizing to a retirement community is parting ways with meaningful items. And because it's already difficult to view cherished everyday objects, clothing, art, or furniture objectively, it's best to start the sorting process with small, unsentimental items. Save the more emotionally charged items for last so you can reflect more critically after you've had some practice with the easy stuff.
Remember, personal pieces can always be gifted or donated. And giving these items a second life can help you reframe any sadness that comes when parting with beloved items. Above all, give yourself the time to navigate through the entire – and often emotional – sorting process so you can be at peace with your decisions.
Get all of the information about your retirement community together to make final decisions
Depending on your planning style, this might be the first step you want to take, but it's a crucial step, nonetheless. There are several aspects of your new retirement community you'll want to consider when finalizing your moving inventory. These, however, stand out when downsizing to a retirement community:
Apartment/home size
Apartment/home layout
Apartment/home location
Of course, the size of your new home is going to dictate what you're able to take with you. And even if you begin organizing items with the size of your home in mind, it's good to revisit this point when making final decisions. The layout of your home will also help you take some of your "maybe" items and place them into a "yes" or "no" pile. If your community allows, try to get as many pictures as possible of your exact living space or even schedule a few tours so that you have a good idea of where your items will go before you start moving in. Lastly, if your retirement community is in a different state or area than you live in now, you will need to make sure all of the items you're set on taking with you are appropriate or necessary four your new climate and lifestyle.
Something important to remember about downsizing to a retirement community is that it's not just another new home – your retirement community is likely going to have many amenities you don't have access to now. If you're moving into an all-inclusive senior living community or personal care home, the type of amenities included, or services offered, may eliminate more items to bring along than if you were considering a senior living lifestyle more akin to senior independent living communities where you are living in a stand-alone cottage or condominium. 
Need more advice on downsizing to a retirement community or any other senior living topics? Ecumenical Retirement Community can help.
Ecumenical Retirement Community is often considered one of the best retirement communities in Pennsylvania. Our senior living community offers residents everything from memory support, restorative care, and personal care to our independent living home services, all while providing seniors with a holistic approach to health and care. Our campus is designed to provide our residents with the chance to live life fully while enjoying retirement and receiving the care they need. Our knowledgeable and friendly coworkers at our retirement community are available to provide more information on all of the services and life enriching activities we offer at Ecumenical Retirement Community as well as campus tour information in order to help you make the best decision while researching communities for you or your loved one. If you are looking into downsizing to a retirement community, contact us today. We look forward to hearing from you and showing you what Ecumenical Retirement Community has to offer.
Contact Us