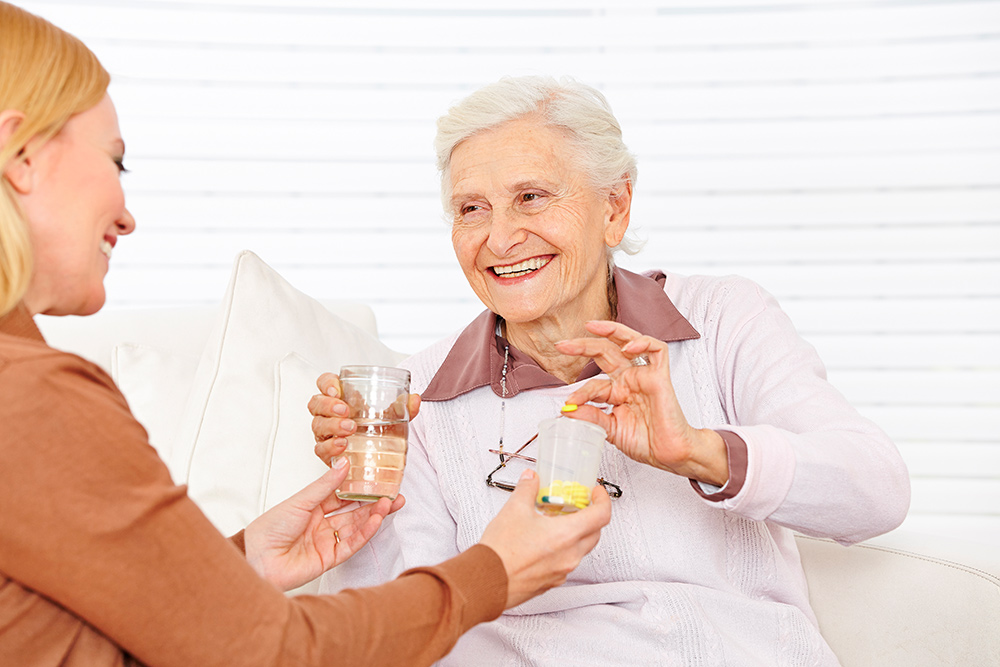 August 19, 2022
The Importance of Managing Medications for Seniors
Managing medications for seniors is vital to maintaining the health and safety of residents in places like Ecumenical Retirement Community. There are many reasons why older adults need assistance managing their medications, including vision loss or impairment, memory loss and confusion, swallowing and dexterity issues.
Managing multiple medicines can be a daily challenge for seniors. According to an article from Johns Hopkins Medicine, "Nearly 40 percent of older adults take five or more prescription drugs."
When is managing medications for seniors necessary?
In independent living communities, residents are still able to take their medicines themselves.
In assisted living, personal care and memory support, the clinical team manages and administers medications for residents. Licensed clinical professionals can dispense, hand out, insert, or apply medication that residents cannot do themselves because of their physical or mental condition. This includes:
oral medication
eye drops or ointment
ear drops or ointment
nasal sprays and drops
topical medication
inhalers
When clinical staff are managing medications for seniors in assisted living, personal care or memory support, they strive to ensure the correct prescription is being administered to the proper patient on the dosing schedule ordered by the physician to maximize its effectiveness.
How is medication managed for seniors in assisted living?
Managing medications for seniors in assisted living is centered on "rights" that guide administration and rely on verification between the medication administration record (MAR) and the prescription label or the physician's order in the patient's record. These rights include:
The Right Resident: the proper patient receives the medication
The Right Drug: the drug is what the physician ordered
The Right Dosage: the strength of the drug and the amount given is verified
The Right Time: the frequency on the patient's record is consistent with that on the medication label or the physician's order in their record
The Right Route: the medication is taken (oral, topical, nasal, injection, etc.) as defined in the record and on the pharmacy label or the physician's order in the resident's chart
The Right Record: an accurate record is maintained each time medication is administered
Because managing multiple prescriptions on a daily basis can be challenging for some older adults, at Ecumenical Retirement Community our professionally trained staff is on hand around the clock to help residents who need it. For seniors facing memory loss or confusion, our memory support services provide regular medication assistance as part of our comprehensive dementia/memory loss care. In our personal care home, residents may receive one-on-one support for their medication and other daily needs.
Ecumenical Retirement Community provides quality compassionate care for our residents, from memory support, restorative care and personal care to independent living. Our knowledgeable
can provide you with more information on the services and amenities we offer as well as campus tour information. Contact us today to schedule a visit and see how our residents live life with purpose.
Contact Us