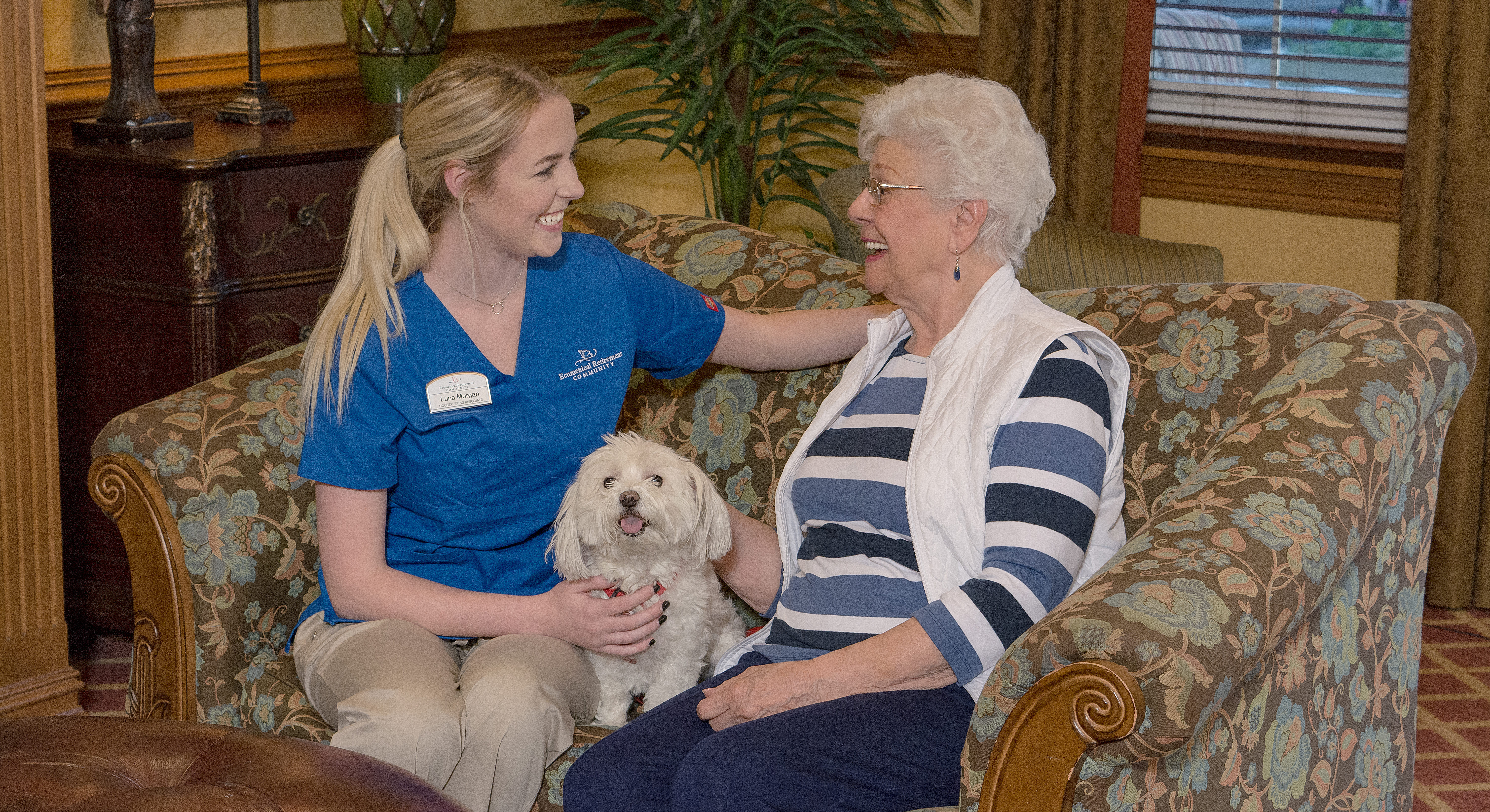 November 22, 2021
The difference between nursing home care, senior living and assisted living
Assisted Living, Independent Living, Personal Care, retirement community
Seniors are provided with many different living options as they age. And while this should give great reassurance to those beginning their research, it can also be difficult to know which option is the right one. From nursing home care to independent living, long term care and assisted living, there are several factors to consider so that you or your loved one choose the right community.
Here, we'll detail the different aspects of nursing home care, assisted living, and senior living options to help guide you or your loved one on the right path.
The varying services available for seniors from nursing home care to standard retirement living
The main difference between every type of retirement community option is what kind of care they offer. The breakdown of some of the most common care services from nursing home care to standard senior living shows the range of care options available for seniors more clearly and can help to clear up some confusion between similar sounding services.
Senior living
This is a blanket term used for most retirement communities that provide housing and retirement living options for seniors, aged 55 or older. Generally speaking, these living options can include anything from independent living to more elevated services such as long-term care. However, they may not always offer more extensive services like communities that provide nursing home care. It's important when researching that you understand the specific services offered at each community you look into.
Nursing home care
When medical assistance is needed full-time, nursing home care is the best option for seniors. This is on the opposite spectrum of standard senior living. The most common services associated with nursing home include custodial care (bathing, dressing, or using the bathroom), help with general mobility and/or transport, medication management, and 24-hour emergency care or supervision. Nursing home care can also on occasion be a temporary housing option depending on severity of an injury or illness as it offers physical, occupational, and respiratory therapy to residents.
Assisted living
Sitting right in the middle of standard retirement community and nursing home care, assisted living offers seniors an extra level of care in the areas they need it. Assisted living homes are very similar to most retirement communities in that they give residents flexibility in campus activities, community socialization, and dining in addition to their own room or apartment. There is, however, additional healthcare staff and support to help assist with daily activities such as dressing, mobility, or medication management. These services tend to come with an added charge per need and may not be included in the cost of housing as needs change from resident to resident.
How to know whether a nursing home care community, senior living residence, or assisted living home is best
When considering retirement community options, the most important thing to consider are your current needs. From here, it will be much easier to know which communities can support you or your loved one. For instance, those with a chronic illness or who are experiences serious effects from dementia might consider nursing home care, whereas an active senior looking to downsize right out of retirement would be better suited in an independent living community.
Here are some factors outside of care services that can help you make the right decision once you've established any health concerns.
What can I afford?
What type of social activities are available at my ideal community?
What size home am I comfortable in?
Do I want to stay close to my current city or neighborhood?
You can always consult your doctor or speak with a representative from the communities you're interested in to help you make the right choice as well.
Services that Ecumenical Retirement Community provides
Ecumenical Retirement Community is often considered one of the Harrisburg, Pennsylvania area's best retirement communities. Our retirement community offers residents everything from memory support, restorative care, and personal care to our independent living services, all while providing seniors with a holistic approach to health and care. We also provide all our residents with 24-hour access to medical care, should an emergency arise. Our campus is designed to provide our residents with the chance to live life fully while enjoying retirement and receiving the care they need. Our knowledgeable and friendly coworkers at our community are available to provide more information on all of the services and life enriching activities we offer at Ecumenical Retirement Community as well as campus tour information in order to help you make the best decision while researching senior independent living communities for you or your loved one. We look forward to hearing from you and showing you what Ecumenical Retirement Community has to offer.
Contact Us