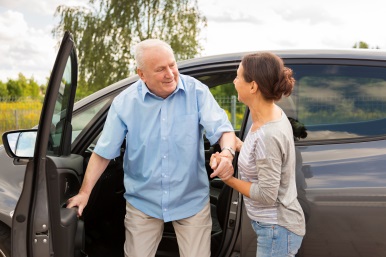 December 20, 2018
Seniors and driving: Ecumenical Retirement Community's advice for concerned families
For Adult Children
The satisfaction of being behind the wheel, free to go where you please, can be a powerful, life-affirming feeling at any age. So we shouldn't be surprised when a parent or grandparent resists the suggestion to discontinue driving. Many seniors equate driving with independence and control, and giving it up is disappointing, at least, and may feel life changing.
At Ecumenical Retirement Community, we know conversations with senior loved ones about driving can be stressful for families. While that may be unavoidable, we urge adult children to use sensitivity and understanding when approaching senior parents about limiting or stopping driving.
Watch for warning signs of cognitive challenges while driving
Though there may be physical reasons that pose difficulties, cognitive changes are generally responsible for driving challenges. Family concerns about driving often coincide with a senior driver's early signs of dementia. Warning signs that a senior should drive less or stop completely include confusion, hesitancy, stress or anger while driving.
"Driving demands quick reaction time and fast decision making—because of this, a person with Alzheimer's will eventually become unable to drive," according to the Alzheimer's Association. "Dealing with the issue early on can help ease the transition."
Ask yourself: Can Mom or Dad follow a recipe? Do laundry? Play cards? Or follow similar multistep processes?  This is the kind of thinking that is also needed to drive a car.
Ecumenical Retirement Community's tips for families regarding senior driving
Ride with them to observe their driving, watching for slips in mental functioning and motor skills.
Look for other signs, namely damage to their car or traffic tickets.
Ask if you can go along to their next doctor appointment. If the doctor observes new symptoms since the last visit, a three-way discussion may be in order.
Contact an organization in your area that assesses driving ability. That could be a driver rehabilitation specialist, VA Medical Center, hospital or rehabilitation center or even the local AARP office.
Contact the motor vehicle division of your state transportation department. All states, including Pennsylvania, have procedures in place, such as driving evaluations and license reviews, to address your concerns.
While the issue of senior driving is being resolved, be open and honest with your parents. Be sure they know you are acting out of love and concern for their health and safety. Understand that they may deny they have a problem. Tell them you will help them resolve the issue of alternative means of transportation. They may be anxious or worried about their future, and your support for them at this time is important.
If you think it may help, include someone else your parents respect in the discussion—perhaps their physician. Doctors notice cognitive or physical changes and sometimes have more influence on seniors' decisions than adult children have.
If you're interested in a caring, affordable central Pennsylvania retirement community, we invite you to contact us to learn more about Ecumenical Retirement Community in Harrisburg, PA. We would be glad to have you visit and learn more about the services we provide for our residents, including transportation to nearby stores, restaurants and doctor's offices.
You will discover that we take pride in offering personalized senior living and a comfortable, secure retirement community life that engages the body, mind and spirit.
Contact Us