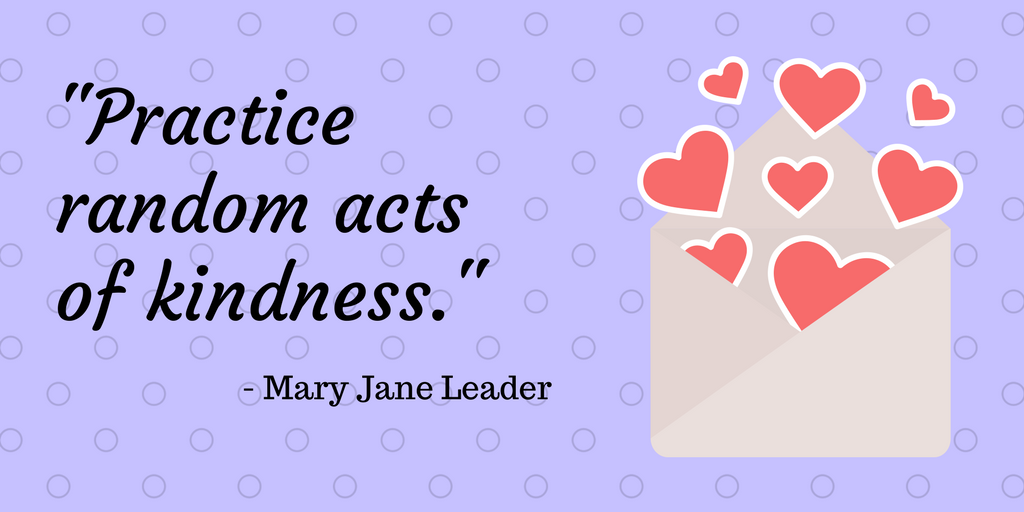 April 28, 2017
"Practice random acts of kindness" now and all year long
At Ecumenical Retirement Community, we honor the memory of our co-founder and former Pennsylvania First Lady, Mary Jane Leader, by celebrating Practice Random Acts of Kindness Month in April, her birthday month. Mrs. Leader and her husband, the late Gov. George M. Leader, founded Ecumenical as an affordable and hospitable senior living community for Pennsylvania retirees.
"Random acts of kindness can be as simple as smiling at a stranger, helping someone with their groceries or just paying a visit," says Michael Leader, son of Gov. and Mrs. Leader, and President and CEO of Ecumenical Retirement Community. "Mother loved to surprise family and friends with an unexpected gift—like delivering homemade fudge or a pecan or rhubarb pie."
All Ecumenical vehicles sport bumper stickers with Mrs. Leader's favorite message, "Practice Random Acts of Kindness," to share and spread her philosophy. If you would like a free bumper sticker or window cling with this simple but powerful message, just stop by the front desk of Ecumenical Retirement Community in Harrisburg, PA.
Acts of kindness benefit both givers and receivers
In honor of our residents at Ecumenical and all seniors everywhere, we invite you to find opportunities to brighten the day of an older adult, whether a friend, family member or even a complete stranger. It will not only make his or her day better—but yours, too! Here are just a few ideas to get you thinking, but we hope you will look over our full list of suggested "51 Random Acts of Kindness Toward Seniors."
• Seek their advice about something in your personal or professional life.
• Surprise them with a baked dessert or home-cooked meal.
• Offer to plant flowers to brighten their residence.
• Wash their car.
• Volunteer to take them to the store or somewhere else they would like to go.
• Spend time talking with them and getting to know them better.
• Make cards for them with your children and deliver them during a visit.
Michael Leader adds, "Every day we try to make life better at Ecumenical, and whether you are the grantor or recipient of a kind act, the generosity of the human spirit provides great rewards. I encourage you to pay it forward with a random act of kindness."
According to the Corporation for National and Community Service, people who are thoughtful and giving have lower mortality rates, greater functional ability and lower rates of depression than those who are not. So, when we reach out in kindness to someone, we just might be improving our health as well.
Our residents express kindness through volunteering
Ecumenical residents also like to show kindness to others, so we give them such opportunities through volunteer activities, both in our independent living community and our personal care home. For example, our resident volunteers assist schools, hospitals, soup kitchens, animal welfare groups and health organizations by baking cookies, mentoring young students, preparing mailing projects, raising funds and handcrafting clothes and other items for people in need. Our residents also manage our gift shop and maintain our butterfly garden and other plants.
If you are looking for a retirement community in central Pennsylvania and like to volunteer, ask prospective senior living communities how you could share your time and talent. We would be glad to tell you about the volunteer activities offered here at our Harrisburg, Pennsylvania retirement community and show you our senior apartments. Please contact us for information or to schedule a visit so we can introduce you to our campus, staff and broad variety of services.
Contact Us