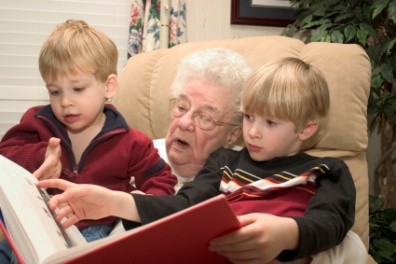 September 5, 2019
On Grandparents Day, help kids connect to loved ones with memory loss
family, For Adult Children, Grandparents Day, Memory Care, Personal Care
National Grandparents Day is observed on the first Sunday of September after Labor Day to honor grandparents for their love and support. Ecumenical Retirement Community encourages families to express their gratitude to grandparents and, where possible, use it as a day of visitation and connection.
We recognize that visits and communication can be challenging when a senior family member has dementia. And while adults might comprehend and even accept the change in their loved one, children may be confused, frightened or upset. So, for Grandparents Day on September 8, we're offering guidance and resources for families to support children in better understanding dementia.
Tips and resources for children when visiting grandparents with memory loss
If a senior's dementia is relatively new, prepare your children for a visit. Explain that dementia is a disease of the brain that takes away memories. It also can affect mood and the ability to perform everyday tasks.
Assure your children that they can't catch this disease (like a cold) and that, sadly, there isn't medicine to make it better.
Ask your children to look into their grandparent's eyes and really listen. Tell them not to correct Grandma or Grandpa if she or he says something that's not true or sounds strange.
Let your children know that even if they can't talk with their grandparent like they once did, they can still hold hands, look at a book, pet the dog, etc.
Let your children know it's OK to be upset, scared, sad or angry at the change in their grandparent. Encourage them to talk with you about their feelings.
Answer all their questions honestly. If they ask you something you can't answer, suggest trying to find out together.
We have an award-winning children's activity book, "The Unforgettable Adventures of Grandma's Cape," to help children better understand a grandparent's Alzheimer's disease. You may obtain this free book at the main desk at Ecumenical Retirement Community. We also can recommend several books to help children understand dementia.
Personal care and dementia care services at Ecumenical Retirement Community
For seniors needing dementia care in our senior living communities, our memory support program provides personalized, professional assistance to them and their families. Our program is available to residents who also receive our personal care services. Memory support at Ecumenical builds bonds of communication and caring for each individual in a personal care setting through customized support plans, exercise programs and intellectual stimulation.
We know caring for a loved one with dementia is challenging for families, so we partner with the Alzheimer's Association to sponsor a monthly support group meeting on the last Wednesday of the month at 7 p.m. Anyone is invited to attend. For more information, ask us for details.
If you are in the process of choosing a retirement community or are interested in our personal care home or memory support services, please contact us to learn more or schedule a visit. We would be glad to show you firsthand the wide range of services we offer seniors in the Harrisburg, PA area.
Contact Us