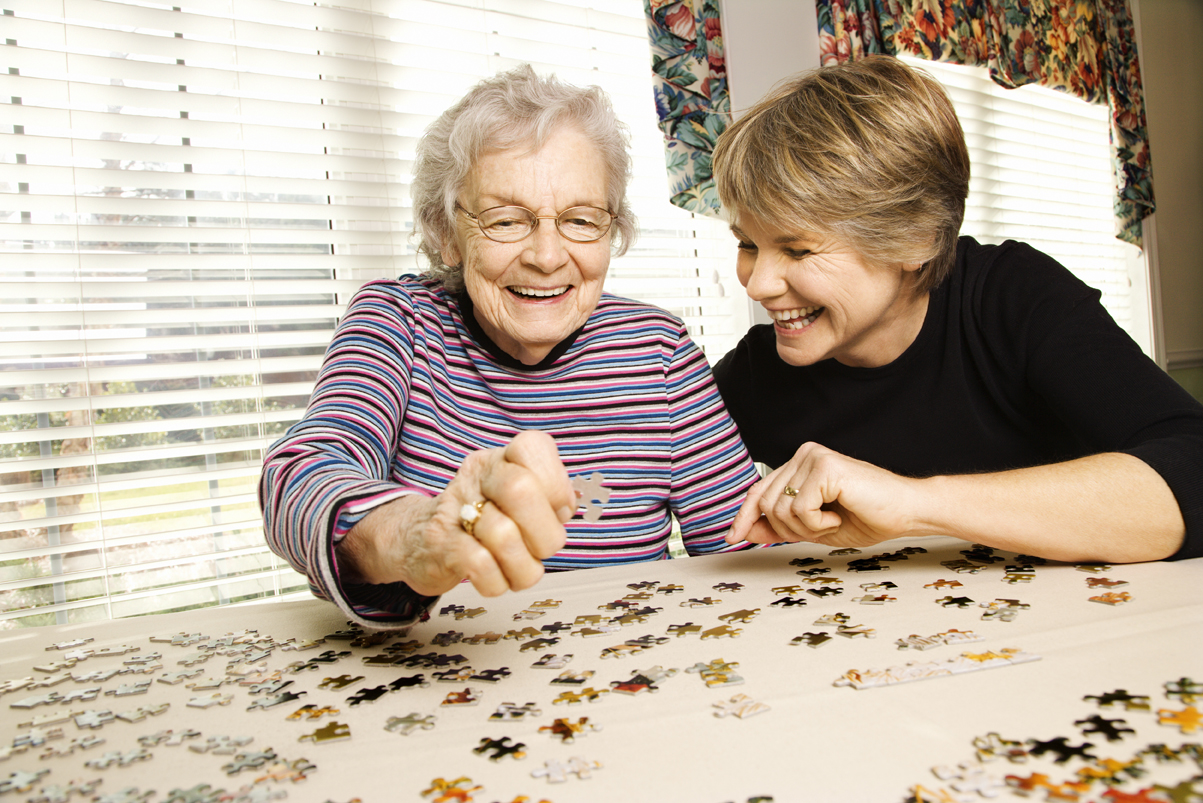 March 17, 2023
"Mom Has Dementia. What Now?" The Keys to Compassionate Senior Memory Support
The signs are there, even as you try to wish them away. Mom seems a bit more forgetful lately, and is much more irritable these days, too. But everyone misplaces keys and stuff, right? She always went through the list of her children's names before she finally remembered yours. But she isn't keeping up with personal care like bathing and brushing her teeth. And yesterday she didn't recognize your father. How can you provide the compassionate senior memory support she needs?
Quality of life
Dementia is a terminal illness. Medications may help with some cognitive functions, but there will inevitably be a decline as the brain no longer functions properly. It is what makes this insidious disease so horrible and what makes quality of life of vital importance for senior memory support.
Here are a few ways to help your loved ones with dementia have the best possible quality of life:
Step into their reality. Don't try to correct them. It may only confuse and agitate them.
Make connections by sharing in activities they enjoy or patiently listening to their stories, again.
Try not to disrupt their schedule, which may only make them anxious or upset.
Learn as much as you can about dementia and how it affects your loved ones.
Understanding how to compassionately and effectively communicate with a parent with dementia can reduce stress and agitation and improve connection. Ecumenical Retirement Community teaches our families how to use Validation for senior memory support. This method of listening with empathy and asking the right kind of questions can help those with memory challenges fully express their concerns and frustrations. Ultimately, the Validation Method can help reduce anxiety, build trust, restore dignity and strengthen relationships.
Don't go it alone
Being compassionate to yourself is also important. No one is prepared to go through this. Dementia can be isolating for the caregiver as well as the person with memory loss. It is often called a family disease because it affects everyone. Getting support early on can make the decline in health of your loved one easier, though definitely not easy. Having someone who has been through it before, even if only slightly ahead in the senior memory support process, can make you feel less alone. They can share tried-and-true practical tips, too.
Ecumenical Retirement Community offers a monthly Caregiver Network for Memory Support at its Harrisburg campus that provides caregiving advice, educational speakers and group discussion. This is free and open to the public, not just our residents and their families.
You can find more support groups at the Alzheimer's Association at alz.org.
Make a plan
End-of-life plans are always important, but when your loved one has dementia, there is a greater sense of urgency and necessity. Legal papers such as powers-of-attorney and wills, financial beneficiaries and disposition of assets and burial wishes all need to be discussed. It is hard, but there are resources out there to help you have these conversations with your loved one and family members. Ecumenical Retirement Community and our sister company, Country Meadows, have created a free guide to help you get started, Talking about Touchy Topics with Your Aging Parents. Planning ahead can greatly reduce stress in the long-term.
Don't forget to make a plan to remember and reminisce on their life, too. You will want to capture as many memories and moments as possible. Take the time to record the stories of a life, look at old photographs and talk about what their life has meant to them. A plan can help keep the focus on appreciating your loved one and the life they lived.
Keys to compassionate senior memory support at Ecumenical Retirement Community
Ecumenical Retirement Community has been providing affordable senior living in Harrisburg, PA for more than 25 years. At Ecumenical, we use the Validation Method and the Compass Program to help understand and effectively communicate a person with dementia's needs, abilities and desires, which helps to reduce stress and anxiety for everyone. Along with our sister company, Country Meadows, also have created an online Resource Center to help families understand the effects of dementia. Here you will find tips for families, including how to dine out with a loved one with dementia, a list of helpful children's books about dementia and caregiver reviews of books about dementia.
Our senior memory support services include personalized support plans, a secured neighborhood setting, caregivers trained in memory support techniques, staff support 24 hours every day, all-inclusive living, our new friendship suite living option and more. Plan a visit today. Or reach out to discover how our residents live life with purpose.
Contact Us