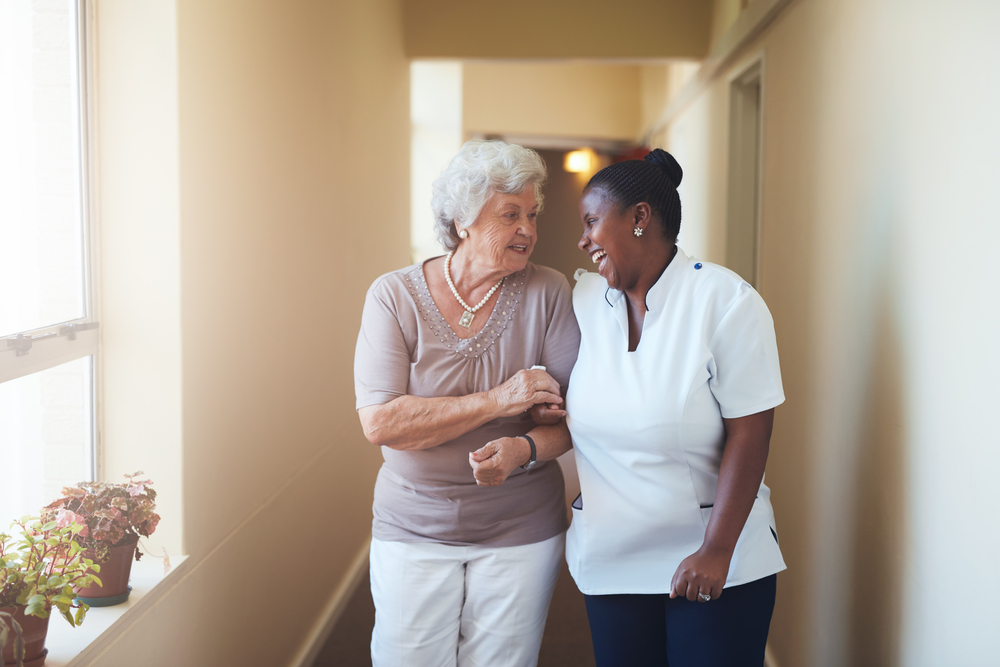 July 18, 2018
Maintaining balance helps prevent dangerous falls for seniors—at home or in a retirement community
For Adult Children, health
The leading cause of injury, both non-fatal and fatal, to seniors is:
Strokes
Falls
Heart attacks
Car accidents
If you selected "b," you might already know how common falls are and how dangerous they can be to older persons. One in four Americans age 65 or older—and one in two who are 80 or over—falls each year. Eighty-seven percent of fractures in seniors are caused by falls.
Good balance increases in importance with age
These statistics underscore the importance of seniors maintaining their balance as they age. Steady balance is essential for good health, because it prevents falls that can result in serious injuries.
What, precisely, is good balance? The National Institute on Aging (NIA) says it's the ability "to control and maintain your body's position, whether you are moving or remaining still." According to the NIA, a healthy sense of balance helps seniors walk without staggering, stand without falling, manage stairs without tripping and bend without falling.
 The main causes of balance problems in seniors are:
Vertigo and inner ear problems
Vision difficulties
Arthritis and weak knees
Numbness in legs and feet
Circulation difficulties, including heart disease and stroke
Chronic diseases (e.g., diabetes, Parkinson's, Alzheimer's, multiple sclerosis)
Medications for various conditions
Treatment for many of the above conditions can help improve balance. If you or a loved one sometimes feels lightheaded, dizzy or unsteady, see your physician for diagnosis, treatment and, possibly, referral to a specialist. By seeking medical treatment and adhering to prevention strategies, seniors with balance problems are more likely to walk independently, remain safe and engage in daily activities.
Help seniors follow these safety tips to better control their balance:
Don't use throw rugs. Non-skid mats are better.
Use a cane or railings when they're available.
Install support bars in the tub or shower and near the toilet.
Use night lights in the bedroom, hallway and bathroom.
Store household items on easy-to-reach shelves.
Keep hallways and driveways free of clutter.
Exercises to condition and strengthen muscles also can help to prevent falls and are often available at senior centers, fitness centers and the best retirement communities.
Preventing falls at Ecumenical Retirement Community
Older persons who are challenged by balance issues can benefit from supervision and exercise provided at a retirement home. Ecumenical Retirement Community in Harrisburg, PA has begun a falls prevention program to reduce falls by 10 percent. Co-workers report changes in residents, such as confusion or difficulty with standing or walking. A multidisciplinary team receives the information and, case by case, may recommend an assessment for a resident's risk and possible treatment.
 Improving "sit-to-stand" skills is a priority. Seniors who confidently make the transition from sitting to standing are more apt to participate in exercise classes and other social activities.
The staff at Ecumenical takes pride in working with our residents to help them stay safe, fit and active. As a result, many residents can continue to live in personal care (similar to assisted living) rather than move to a higher level of care in a skilled nursing facility.
We also offer independent living communities and memory support neighborhoods (for dementia care). If you're looking for a health-centered, active senior living community near you, we invite you to contact us to schedule a visit and learn more about our many services.
Contact Us