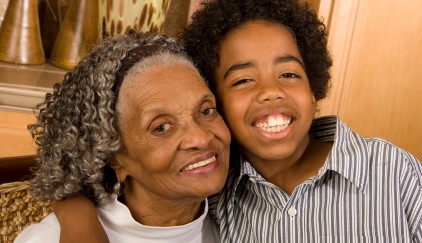 September 30, 2016
Hosting grandchildren at senior living communities creates fun and lasting memories
There is a special bond between grandparents and grandchildren. Seniors in retirement communities value time spent with grandchildren and find those moments create valuable memories. When grandparents move to a retirement home, grandkids can rest assured that visiting Grandma and Grandpa should remain an enjoyable experience. In fact, many of the activities they enjoy together can continue at the retirement facility, and they may discover new ones as well.
Activities for grandparents and grandchildren to enjoy together
The best retirement communities offer plenty of opportunities for on-campus, intergenerational activities. At Ecumenical Retirement Community in Harrisburg, PA, we welcome family visitors, including children and encourage ongoing interaction between our residents and their grandkids.
Our retirement home's outdoor walking paths provide opportunities for grandparents and kids to take nature walks; observe activity in our Butterfly Garden (an official, registered Monarch Waystation); and feed and watch the birds. Ecumenical's picturesque and naturally inviting campus features lush gardens of plants and flowers that attract songbirds, cardinals and finches—and deer and rabbits make themselves at home here as well.
No matter what the weather may be, grandparents and grandkids can find plenty to do indoors at Ecumenical. Favorite intergenerational activities include baking and decorating cookies; playing cards, table shuffleboard and board games; assembling jigsaw puzzles; doing arts and crafts; reading and storytelling; singing and playing piano; looking through photo albums; and enjoying family movie nights.
Ecumenical residents and family members also enjoy having access to a game room, theater, libraries, computer centers and common areas for entertaining, learning and socializing.
Visiting grandparents with memory loss
Some grandchildren are faced with the difficult prospect of visiting a grandparent with dementia. Their parents or other adults should prepare them for such visits, explaining that dementia makes thinking and remembering difficult for Grandma or Grandpa and honestly answering questions the children have following visits. We even have a new children's activity book, The Unforgettable Adventures of Grandma's Cape, to help children better understand the changes and how to still have meaningful interactions. You can pick one up for free from the front desk at any time.
Residents needing memory support during senior living may receive services in our memory care (dementia or Alzheimer's care) facility, where they can benefit from personalized support, customized exercise and intellectual stimulation. Their family members are welcome to join Ecumenical's memory support group, a partnership with the Alzheimer's Association.
Our senior independent living community and personal care (a type of assisted living) facility in Harrisburg, PA are designed to promote family involvement and interaction with our residents. If you've been wondering, "What is the best retirement community in central Pennsylvania near me?" we hope that you will contact us for information and schedule a visit to see our senior apartments and wide range of services.
Contact Us