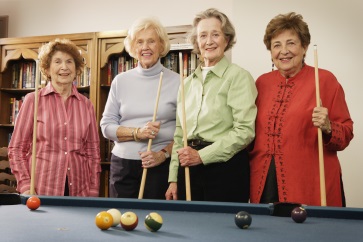 April 18, 2019
Friendships at senior living communities help counter loneliness
For Adult Children, retirement community, social activities
Seniors today live fuller, more active lives than ever. They travel, participate in fitness and social activities and volunteer for their favorite causes. But that's not true of all of them—one in six older Americans says he or she is lonely.
Women are more likely to be lonely than men. According to the U.S. Administration on Aging:
Of American men over 65, 20 percent live alone; of women, though, 34 percent live alone.
Of men over 65, 72 percent are married, but just 45 percent of women are married.
Loneliness in later years generally results from the deaths of friends and family, limited access to transportation and health issues (e.g., fatigue, chronic pain, memory loss and fear of falling).
No one should have to feel lonely on a regular basis, even after losing a spouse or close friends. And while we know loneliness is detrimental to mental health, it can have negative effects on physical health as well.
Five ways to help senior loved ones overcome loneliness
We suggest these ideas for concerned family members to assist lonely seniors:
Arrange a schedule of people to check in on them regularly in person, by phone, and, if they are computer savvy, by email.
Encourage them to not live alone. Living around other people helps counter loneliness. Help them to look into community living.
Set up transportation options. Your Area Agency on Aging may have a list of resources, and friends and relatives may assist with "taxi service."
Help them find support groups. Meeting others with similar health or bereavement issues can be comforting. Many senior living communities host support groups open to the public.
Urge them to seek medical treatment If they show signs of depression. Reassure them that seeking help is the right course, just as with any medical condition.
Senior living communities are great places for socialization and friendship
Some older persons find making friends to be difficult. Senior living communities can make those contacts easier, with multiple opportunities to make friends who share hobbies and interests, or who just want to share a meal together. This helps seniors create full, well-rounded lives.
Friendship is vital to happiness and enjoying retirement for most seniors, and it has health benefits as well. We find that regular opportunities for connection result in improvements to their physical, mental and emotional well-being. Social interactions reduce stress and depression, enhance self-esteem, create a more positive outlook, and can even help boost the immune system.
At Ecumenical Retirement Community, our residents enjoy a broad range of group activities and recreational programs. Our comprehensive social schedule offers educational talks, fitness classes, social events, volunteer work and spiritual enrichment programs that entertain, educate and energize participants.
If you're considering a move to a retirement community in Pennsylvania, we hope you'll visit our lovely, suburban campus. As an all-rental senior living community, Ecumenical Retirement Community in Harrisburg, PA offers retirees affordable senior housing for rent in a family-oriented, caring environment. We hope you will schedule a visit or contact us for information.
2 responses to "Friendships at senior living communities help counter loneliness"
Contact Us