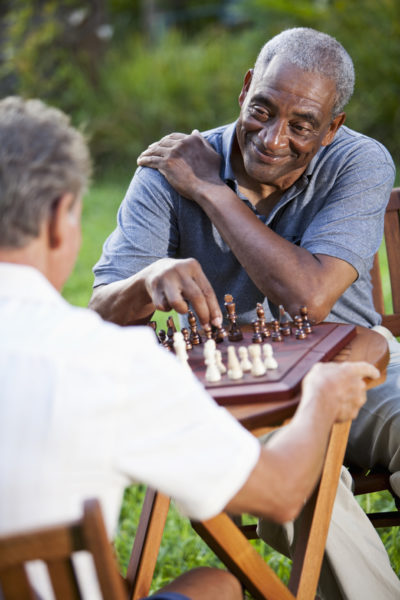 June 13, 2018
Friendship is important for the well-being of senior men
For Adult Children, retirement community, social activities
In the United States, one in seven men age 65 or older lives alone, and a lot of them are lonely. In fact, about two-thirds of older men surveyed report they don't have a close friend.
But men can be lonely for friendship even if they don't live alone. Now that they are retired, and perhaps with some of their friends gone, many men can find it difficult to create new friendships.
Benefits of senior friendship can be elusive for many men
Women are much more likely to devote time and energy to cultivating close relationships with each other. And that's healthy, as studies show that friendship even has physical benefits. Camaraderie can actually help strengthen the heart and prevent disease.
Friendship has emotional benefits as well. Psychologist Todd Kashdan says men need friendships where they can feel valued and confide in another person about "the difficulties of being human." Men with friendships like these tend to be less lonely and more content. Kashdan advises, too, that friendship requires "conscious attention" and "regular nourishment" in order to grow and survive.
Retirement communities offer men many opportunities for friendship
Not only are senior men more socially isolated from their peers than senior women, but they also have much less contact with their children, family and friends, according to Independent Age (an organization providing information to seniors and their families).
On Father's Day, as you think about the older men important to you, look at the level of satisfaction with their lives, particularly their relationships with peers. Does your dad or granddad participate in social activities? Does he have friends whose company he enjoys? If he is able, does he make an effort to leave his home to be with other people?
If you think he might be lonely but not apt to seek out new friendships on his own, you could help by looking into senior organizations, volunteer organizations, church activities, hobby groups and senior living communities in his area.
The men who live at Ecumenical Retirement Community in Harrisburg, PA form friendships through the wide range of activities provided here for their enjoyment. Those looking for exercise can pursue conditioning classes, group walking, horseshoes, shuffleboard, golf (putting) or ladderball. Outdoor enthusiasts might enjoy gardening, birdwatching or fishing in area streams. Men who enjoy  intellectual stimulation can sometimes be found huddled over board games, cards, trivia and discussions of current events.
Volunteering is another activity that unites many of the men who live at Country Meadows. For example, some make sandwiches for homeless persons as part of our Peanut Butter Brigade, while others enjoy spending quality time with young students in the area, playing games and having snacks together.
Family-centered, active senior living at Ecumenical Retirement Community
Ecumenical Retirement Community takes pride in a compassionate staff that cares for the needs of senior dads and moms as they would their own parents. As a family-focused retirement home, Ecumenical strives to promote family unity for residents and their families. We encourage families to use our private dining rooms, homelike common areas, game room, theater, chapel, and picnic area to celebrate special family occasions. In addition, we invite family members to join their loved ones for meals, concerts and other community programs.
At Ecumenical, we encourage a vibrant retirement by providing our residents with varied opportunities for socialization, whether residing in independent living or personal care. Regular social activities for older persons help maintain and improve their physical, mental and emotional well-being, regardless of their care level. With our special memory care and physical support services, many families find these fulfill their loved one's needs, allowing them to avoid the higher costs of a skilled nursing facility.
If you're in the process of selecting a central Pennsylvania retirement community, we hope you'll visit our lovely, suburban campus. As an all-rental senior community, Ecumenical Retirement Community in Harrisburg, PA offers retirees an affordable living alternative in a family-oriented, caring environment. Please contact us for information or to schedule a visit.
Contact Us