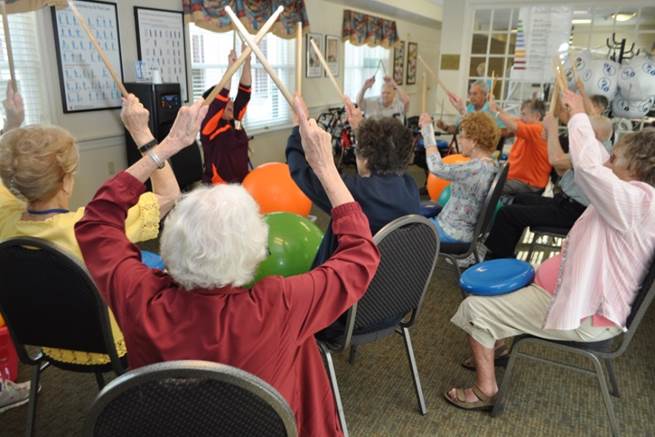 October 17, 2017
Exercise and fitness activities have no age limits at retirement communities
Americans, overall, are staying more active and fit longer, providing them with better physical and mental health, as well as greater energy, during their senior living years.
You shouldn't be surprised, then, when visiting a senior living community to find residents walking, biking or engaging in a game or sporting activity. These older adults know that "age is just a number," and many of them feel years younger than their biological age.
Seniors who are physically capable of exercise but not currently active should know that it's never too late to begin. "Most of the benefits of exercise that accrue for younger adults also apply to older adults, no matter when they begin exercising," says Michael Pratt, MD, formerly of the Physical Activity and Health Branch at the Centers for Disease Control and Prevention (CDC).
What exercise can do for senior adults
The CDC says that physical activity can help older adults:
• Maintain the ability to live independently and reduce risk of falling and fracturing bones.
• Lower risk of dying from heart disease and developing hypertension, colon cancer and diabetes.
• Improve stamina and muscle strength in those with chronic, disabling conditions.
• Reduce symptoms of anxiety and depression and improve mood and feelings of well-being.
• Maintain healthy bones, muscles and joints.
• Control joint swelling and pain associated with arthritis.
Seniors who are motivated to begin an exercise program should first talk with their physician about their plans. Then, they should start off slowly, increasing intensity gradually, while wearing comfortable, supportive shoes.

Fitness opportunities at Ecumenical
At Ecumenical Retirement Community in Harrisburg, PA, residents benefit from one-on-one and group fitness programs tailored to their abilities and led by fitness professionals. We encourage seniors to participate in our strength training, balance fitness, and music and movement programs.
For those with physical limitations, Ecumenical's team modifies exercises to seated positions that can be just as effective, such as chair yoga, balance fitness and Conductorcise® (exercise done to music).
Other popular physical activities on campus are horseshoes, Wii bowling, ladder ball, golf putting, gardening and walking, which is one of the best forms of exercise. Experts in both physical and mental health cite the benefits of walking for well-being.
"Walking is a tremendously good activity for senior citizens. It's cheap, it's simple, almost anybody can do it, and it has a multitude of health benefits for everyone. It helps seniors maintain mobility and independence," says Dr. Pratt.
The best retirement communities support and assist residents with all aspects of their health. If you or a loved one is looking for an active senior community that promotes resident health and fitness, we hope you will consider Ecumenical Retirement Community. We offer senior independent living, personal care (similar to assisted living), dementia care and physical support in Harrisburg, PA. Please contact us to learn more about our retirement home or to schedule a visit.
Contact Us