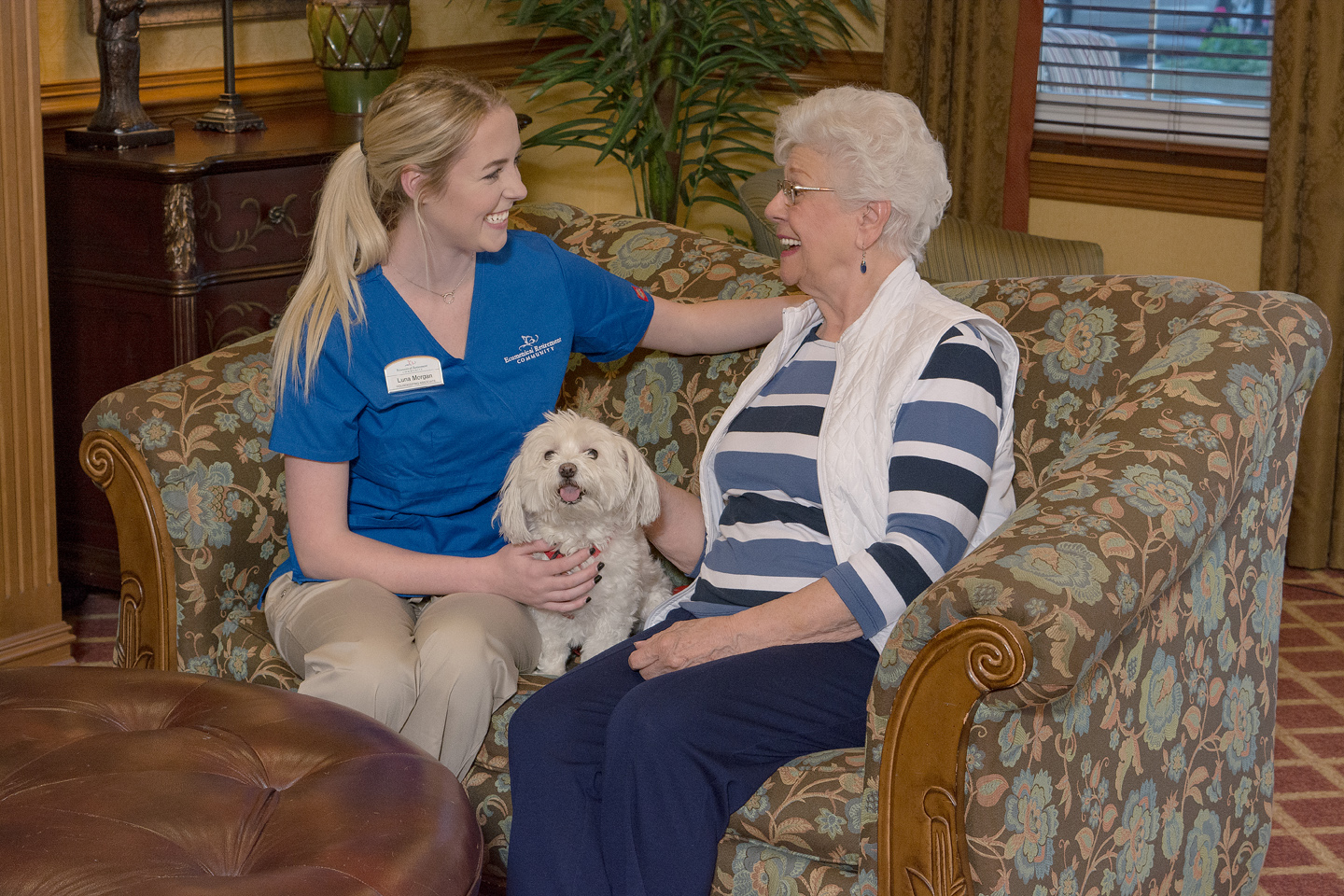 March 12, 2021
Everything you need to be happy, stay active and build friendships within a senior independent living community
Living a long, healthy life is the goal of so many who are starting to plan their retirement journey. There are stacks of factors that seniors believe will help them shine in their golden years, such as taking the right vitamins, avoiding alcohol, and maintaining a thin physique, but those may not actually be the difference makers in living longer or having a higher quality of life. There are several experts that believe planning ahead and choosing the right senior independent living community is the first step towards making that happen. As it turns out, it's the little things in life like building friendships, staying busy, and enjoying activities that help to truly shape happiness in retirement.
If you're a senior planning ahead for your retirement, or aiding a loved one in those plans, here are a few tips on finding a senior independent living environment that meets emotional needs in addition to proper physical care.
An enriching senior independent living community experience
There are many options to choose from in today's world of independent living for seniors, and so many of those senior independent living communities have evolved from the options available to seniors in past generations. From various care options to entertainment and scenic campuses, senior independent living can be just as enriching as life before retirement – without all of the hassle of owning a home and handling the stresses of maintenance. When approaching retirement plans, it's important to understand which elements from a senior independent living community are important to you or your loved one. What truly makes an enriching retirement experience is often focusing on doing what you enjoy. The right community will help you fulfill those needs in addition to any care you currently have or may anticipate requiring. 
Activities designed for senior independent living community residents
Senior independent living communities have long evolved past only offering activities like Bingo – although, the beloved game is still around as one of many options of group entertainment on campuses. As the next generation reaches retirement, many senior independent living communities have been adapting to the changing needs of more active seniors. In addition to traditional on-campus activities like card game tournaments, paint classes and arts and crafts, there are senior independent living communities that offer state-of-the-art facilities such as gyms, entertainment centers for concerts and other performances, as well as scenic walking trails. Many of these activities can be enjoyed by residents on their own time or as part of group classes, with trainers and specialists offering yoga classes, exercise routines paired with mindfulness practices, and walking groups. Outside of on-campus activities, senior independent living residents may wish to have the freedom to shop, visit family and friends, or sight-see during their free time. If these types of activities are important in your retirement journey, be sure to look into the transportation opportunities available to that community's residents and proximity to popular shopping areas or entertainment options.
How we see friendships bloom within our senior independent living community
At Ecumenical Retirement Community, we believe in offering our residents a wide range of activities to fit an array of lifestyles. We have found that our residents appreciate all of the options available to them at any given time and have seen friendships form by residents experiencing new activities together as well as through regular attendance of classic activities with clubs and groups that have returning participants. With our scenic and walkable senior independent living campus, we often see residents starting conversations with each other admiring their neighbor's gardening, talking walks with their dogs together, and greeting each other on walks in the evenings.
Our senior independent living campus also offers a range of dining options for residents to enjoy together or invite friends and families to join them as well. Currently, COVID restrictions are in place, but we are still able to give our residents the option to eat together, when social distancing is possible.
We're also an active part of our surrounding community, which gives our residents the chance to form friendships outside of our senior independent living community as well. Every year we invite residents to participate in community outreach that benefits local shelters, foodbanks, organizations and schools, in addition to other world community programs. In the past we've had residents come together and form bonds with both residents and community members while knitting hats and booties for premature babies, baking treats for the Ronald McDonald House, and volunteering at the St. Francis Soup Kitchen.
How to decide if Ecumenical Retirement Community is the right senior independent living community for you
Ecumenical Retirement Community is often considered one of the area's best retirement communities. Located in Harrisburg, Pennsylvania, we offer a wide range of care options to fit the various needs of our residents. Our community offers everything from memory support, restorative care, independent living as well as In addition, we provide our retirement community residents with 24-hour access to medical care, should an emergency arise. Apart from the many senior independent living services that we offer, we're also able to give our residents a variety of entertainment options from gardening, clubs, exercise classes, transportation to local shops, happy hours, arts and craft classes, and much more. Our senior independent living campus is designed to provide our residents with the chance to live life fully while enjoying retirement and receiving the care they need.
Our knowledgeable and friendly coworkers are available to provide more information on all of the services and life enriching activities we offer in our senior independent living retirement community at Ecumenical Retirement Community as well as campus tour information in order to help you make the best decision as you make your transition to retirement.
Contact Us