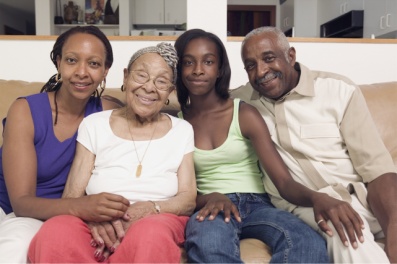 May 9, 2018
10 ways to honor Mom on Mother's Day at a senior community
Holidays, Memory Care
A family-focused senior community, such as Ecumenical Retirement Community, welcomes relatives of residents every day of the year. But, Mother's Day is definitely one of the most popular days for visiting.
Families want to make the day memorable but are sometimes at a loss as to what to do beyond the traditional cards, gifts and flowers. So, we would like to share ideas to make the day for Mom or Grandma one for the family record book—or better yet, photo album.
Give Mom what she really wants (hint: she can't unwrap it)
More valuable to Mom than any present you could buy and wrap is your gift of time. So, why not honor her on her day with a shared experience? And if your family has Mother's Day traditions, continue them, if possible, whether she still lives in the house you grew up in or moved to a retirement community.
Consider one or more of these ideas to celebrate Mother's Day:
Hold a potluck dinner for the whole family at someone's home.
Go on a picnic. Older people rarely get to enjoy an old-fashioned picnic. It can be a real treat!
Dine with Mom at a restaurant she loves. But make reservations!
Indulge her passion with a visit to a museum, gardens, concert, ball game or shopping mall.
Play favorite family games with Mom, or assemble a jigsaw puzzle together.
Bake with Mom. Some of the best conversations with mothers take place in the kitchen.
Watch a movie—something new or a golden classic—with popcorn or another preferred treat.
Read to her. This could be a nice gift for a mother with failing eyesight or, perhaps, dementia.
Sit outside, talk and reminisce. If it's a lovely spring day, soak in the sunshine together.
Give her new photos of grandchildren or great-grandkids, along with notes or drawings from them.
Make the day special for mothers with dementia, too
If your mother has Alzheimer's disease or dementia, observing Mother's Day may pose challenges for your family. Consider enclosing a family photo, either old or new, in a bright, visual card. Talk with her about the photo and picture on the card.
Though your presence is most important, you might brighten her day with a tangible gift that she can touch and see. Consider an item with soft, soothing textures, e.g., bathrobe, slippers or lap blanket, as loved ones with dementia are often comforted by a pleasant touch. Check out even more ideas here.
You might also consider a gift that promotes reminiscing, such as a CD of her favorite songs (music can boost brain activity) or a photo album or scrapbook with pictures and memorabilia.
If you're considering an active retirement at a senior independent living community or in personal care, we hope you'll visit our lovely central Pennsylvania retirement community. As an all-rental retirement home, we offer retirees an affordable living alternative in a family-oriented, caring environment. If you need memory support services (dementia care) in Harrisburg, ask us about our personalized support and individual care. Please contact us for information or to schedule a tour of our senior living community.
Contact Us