Memorial pavilion and garden dedicated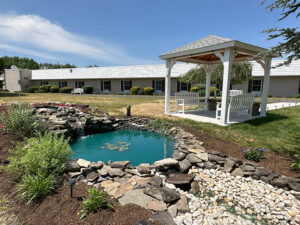 Residents, visitors and co-workers have a beautiful, serene outdoor area to enjoy in honor of Ecumenical Retirement Community's late Chairman of the Board of Trustees.
The John H. Rhodes Memorial Garden consists of a new pavilion, pond, waterfall and garden. Mr. Rhodes was committed to providing an elegant, yet affordable, retirement option for seniors. That vision continues strong today. He, along with Gov. George Leader, played a vital role in founding Ecumenical.
"John wanted Ecumenical Retirement Community to be a place residents are proud to call home," says Michael Leader, executive chairman. "Next year will mark the 30th anniversary of Ecumenical, and this community would not have been successful without John's guidance and tireless advocacy."
Mr. Rhodes' family members, friends and colleagues gathered to dedicate the garden, which is a registered Monarch Butterfly Way Station. "This pavilion provides a perfect spot for residents, co-workers and visitors to enjoy the waterfall and its migrating [butterfly] visitors," says Leader.
The garden area displays a plaque to remind its visitors of the man who helped make Ecumenical Retirement Community a reality.
Contact Us