Welcome back, life
COVID vaccines are changing lives. The coronavirus forced many to be separated from family and friends for the last year, causing many to experience isolation and depression. Thankfully things are changing.
As more and more people are vaccinated for COVID-19, Ecumenical Retirement Community is returning to normal. Residents and co-workers are safely participating in activities, reconnecting with neighbors, visiting with family members and simply enjoying life. NOTE: (Masks and social distancing are still required inside campus buildings except individual resident apartments.)
"Normalcy" is newsworthy these days. These photos show how much our residents and co-workers love seeing each other again.
Celebrating Cinco de Mayo!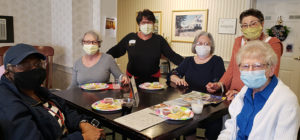 Enjoying outdoor fitness.
Contact Us