Vietnam veteran brings joy, and toy trains, to Ecumenical
Even before graduating from Franklin Marshall College in 1966 at the age of 21, Wayne Manson knew he was going to become a military officer in the United States Marines.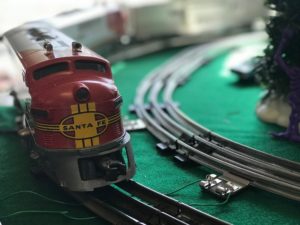 Manson served in the Marines during the Vietnam War as a Second Lieutenant, Infantry Lieutenant for three months before becoming severely injured in 1967. "My battalion was guarding a brand new bridge when we were attacked by the Vietnamese army at 1:30 in the morning. We were at half-strength already and we suffered about 40 casualties that night. Out of six officers that were assigned to my unit, I am the only survivor. And I'm only alive because I've had about 24 blood transfusions," he says.
Manson went through multiple surgeries to repair his legs before leaving the Navy Hospital in Queens, New York in 1968. Shortly thereafter, he started working towards a master's degree in Business Administration.
"Business is a wide ranging subject, and you have to hone in on something that really interests you, so I really focused on marketing," he says.
Manson completed his Master's degree in 1970 and started working for the Xerox Company in New York, New York. While working, he officially retired from the Marines in 1973. He is grateful for what he learned in the service, saying, "You learn the ability to survive crises, personal crises…and to never give up."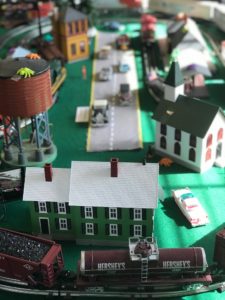 Manson spent time working in California until he moved back to Pennsylvania and officially retired in the mid-2000s. He has lived at Ecumenical Retirement Community for nearly two and a half years. When he moved to the campus, he brought his favorite hobby—his train set.
The train, set up in Building II, attracts visitors including residents and community members from the Harrisburg area. Children from the neighboring U-Gro Learning Center visit Manson and his train set often.
Manson says his love for trains started when his family owned a business in his hometown of Ashland, Pa. The store sold toys, including train pieces. He enjoys sharing his love for trains with everyone who comes to see it.
Manson emphasizes the benefits he gets from having the train with him at Ecumenical. "It's important to have a goal or a project that you're very interested in. It keeps you going," he says. "As long as we're all here on this Earth, we have a purpose. We have to find the purpose, stay involved and find the good things in life. I think the train helps residents find purpose in their daily lives."
Contact Us