Social connections keep residents' spirits high
As masking guidelines are relaxed during low COVID-19 transmission rates, our residents are enjoying the true return to normalcy.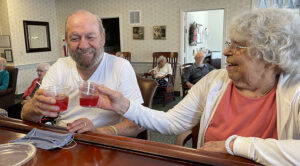 Through our "Vibe" programs, Ecumenical Retirement Community provides many opportunities for socialization through group fitness classes, purposeful service, creative endeavors and social connections.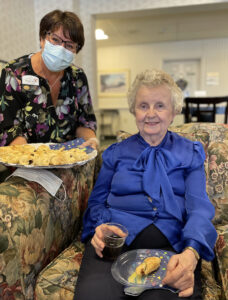 A resident favorite activity that was sorely missed at the height of the pandemic was social/happy hour. This pre-dinner gathering is a time for residents to get together and share laughs, stories and camaraderie. Special events are celebrated at these social connections to mark birthdays, anniversaries and achievements. It is a great time to welcome new neighbors, turning them into friends.
Happy hours are more about social gathering than imbibing. Many residents enjoy non-alcoholic beverages, and those who choose to enjoy a glass of wine or beer typically have just a drink or two to unwind at the end of the day, the same way they've done for years.
This social connection is an example of just one of the many opportunities available to residents in our Vibe program.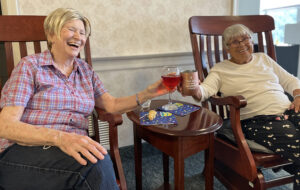 Vibe is created for residents' whole well-being from physical, cognitive, social, spiritual and intergenerational benefits to purposeful service, educational or art classes and engagement with pets and nature—for all levels of care. To easily find what interests each individual, events are organized within categories and seasonal activities, including overall descriptions of that season's programming.
Contact Us