Resident talents make holiday season even more beautiful
This holiday season at Ecumenical Retirement Community is a little more merry and bright thanks to the return of a favorite tradition—our annual resident Holiday Card Art Contest. This art competition invites residents of Ecumenical Retirement Community and our sister company, Country Meadows Retirement Communities, to submit their original artwork based on the holidays and beauty of the winter season. It was not held the last two years due to the pandemic.
This year's winner, "Polka Dot Christmas," was painted by Willie Scott-a resident at Country Meadows of Frederick. Her painting is used in the design for the organization's holiday card sent to residents, families and friends of Country Meadows. For her victory, Mrs. Scott received a prize package including a $350 gift to the charity(s) of her choice, a premium dinner party and professional framing of her winning painting.
In addition to the winning entry, six finalist entries were selected, including Ecumenical resident Lourdes Leon. (Finalist artwork below.)
Members of the Leader family act as contest judges, selecting the winner and finalists. President & CEO Michael Leader says, "I am humbled that so many of our residents choose to share their precious gifts with us. My sister, Jane, and I spend lots of time perusing every single entry to select our winner, and we look forward to it every year."
This contest debuted in 2012 and quickly became a favorite traditions at Ecumenical. For many of us, the holidays evoke warm, happy memories. Ecumenical's dedicated team of co-workers strives to achieve that same sense of warmth and feeling of "home" at our buildings by providing high quality care and services, good food as well as a plethora of activities and outings from which residents can choose.
Details for the 2023 resident Holiday Card Art Contest will be announced in the spring. Please encourage your loved one to consider joining an on-campus art class and submitting a masterpiece in next year's contest.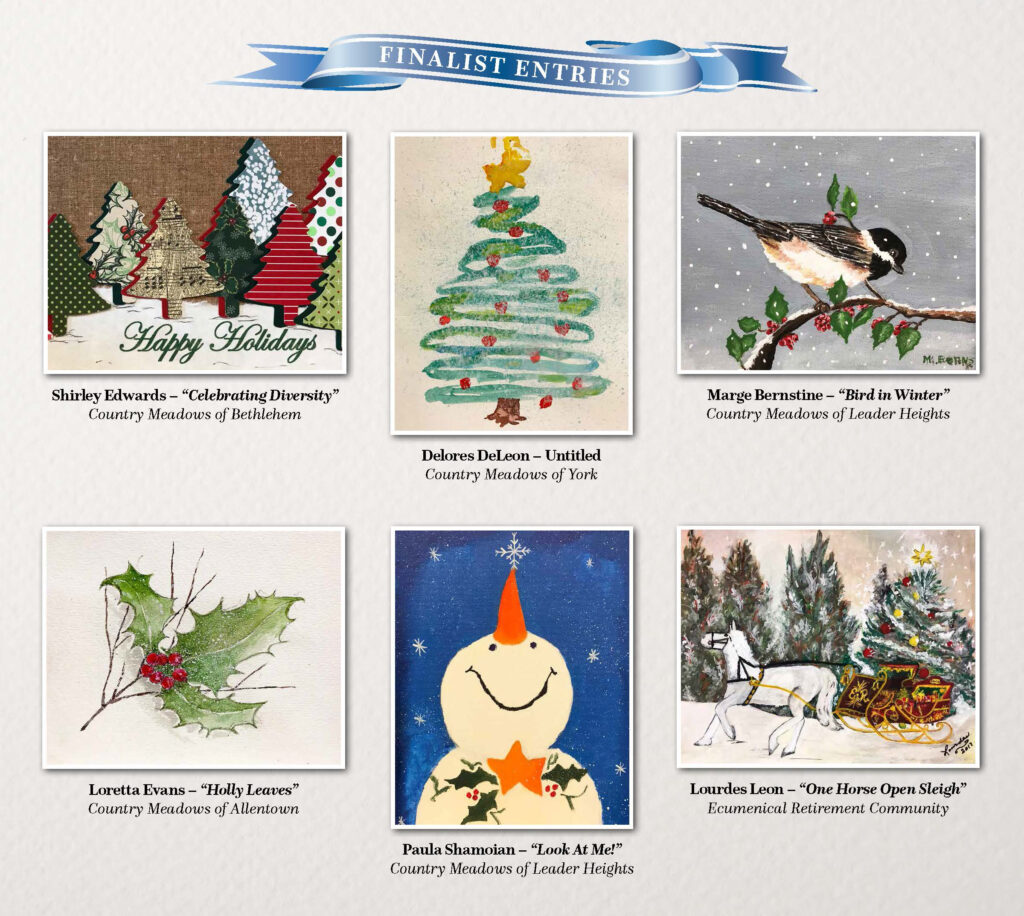 Contact Us