Preparing for the unexpected
Proactive plans address bad weather, supply chain issues
As our nation continues to battle the COVID-19 pandemic, related challenges such as global supply chain issues face every single American. At the same time, winter weather and storms also can disrupt daily operations for businesses and individuals.
Thankfully Ecumenical Retirement Community's campus teams already have plans in place to enable co-workers to continue delivering quality care and services despite challenges. Our goal is for residents not to notice changes.
Dining Services keeps an ample supply of food and drinking water on hand in the event of a weather or other emergency. According to Vice President of Dining and Culinary Services, Katherine Thomas, RD, LDN, "We have learned we cannot order food the way we used to. Our directors are changing their workflows to anticipate delayed deliveries, and our emergency food supplies are being maintained to the strictest degree."
She continues. "We work with a Group Purchasing Organization that orders a high volume of food items, allowing our community to receive food deliveries on a consistent basis, even during these challenging times. This partnership, in concert with Pennsylvania's and Maryland's geographic location near ports and strong agricultural markets, helps to keep our shelves stocked."
Keeping the cupboards full is crucial, especially during a winter storm or other severe weather event when Dining departments also prepare meals for co-workers staying on campus to continue delivering resident services.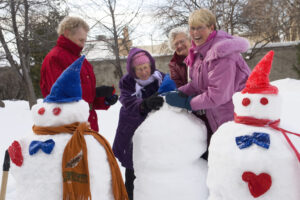 When severe weather is expected, co-workers review plans and run down checklists to ensure the campus is fully prepared for the unexpected, in addition to meal planning.
Backup generators are on-site to maintain core systems such as heat, cooking, refrigeration and care equipment.
Arrangements are made with the pharmacy provider for deliveries of medications and medical supplies.
Contingency plans in which some co-workers may stay on campus to assist residents for days at a time when co-workers' ability to safely travel to and from work is affected. Family members can rest assured that their loved ones will continue to receive care and in all likelihood, will notice no difference in staffing than any other day.
Clearing snow and ice to keep campus access open during severe weather is critical to ensure that ambulances and other emergency personnel can reach buildings. Experienced maintenance teams on every campus have equipment and supplies to keep campus roads clear and safe.
According to Chairman & CEO Michael Leader, "I'm proud that our co-workers provide above and beyond care for our residents, no matter the weather conditions."
Contact Us