Practicing kindness to remember a Leader
Throughout her life, Mary Jane Leader was a daily example of kindness to others and she inspired all who knew her to do the same for family and community members. She, along with Gov. George Leader, founded Ecumenical Retirement Community and its sister organization, Country Meadows Retirement Communities, upon treating people with kindness.
In her honor, the Leader family encourages residents, co-workers, friends and neighbors to practice random acts of kindness every April—Mrs. Leader's birth month.
"We feel it only appropriate that Mother's memory live on by encouraging others to remember the little things that can truly brighten someone's day," says Leader's son, Country Meadows and Ecumenical Retirement Communities President & CEO Michael Leader.
Random acts of kindness can be as simple as smiling at a stranger, helping someone with their groceries or just paying a visit. Examples of kindness shared over by residents and co-workers over the years include: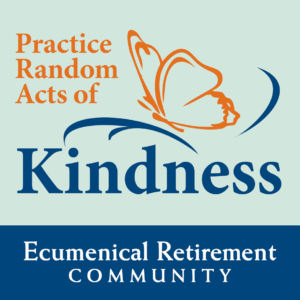 Residents passed out candy, flowers and notes of kindness to shoppers at grocery stores. ERC PRAK Card
A co-worker paid for a family's lunch on campus. The family was visiting their loved one on hospice for the last time.
A marketing team paid for customers' coffee for three hours at a local coffee shop.
A co-worker paid for the driver's coffee in the car behind her at a McDonald's and then witnessed a contagion of kindness as that driver paid for the car behind her, and the next two cars in line did the same.
Residents and co-workers teamed up with a local school to make homemade soaps which were then donated to homeless shelters.
Residents and co-workers remembered our furry friends by making homemade dog biscuits later delivered to animal shelters.
Everyone is encouraged to join in the kindness and spread the word. Every April, visitors can pick up free window clings and bumper stickers displaying the simple yet powerful message,"Practice Random Acts of Kindness." Kindness cards also are available to give to those in need of a pick-me-up.
Leader concludes,"Every day we try to make life better at Ecumenical Retirement Community, and whether the grantor or recipient of a kind act, the generosity of the human spirit provides great rewards. We encourage everyone to pay it forward with a random act of kindness."
Contact Us