Country Meadows Retirement Communities' Meredith Mills recognized as a Central Penn Business Journal 2022 Women of Influence honoree
Central Penn Business Journal has selected Meredith Mills, president and chief operating officer of Country Meadows Retirement Communities and Ecumenical Retirement Community, as a 2022 Women of Influence honoree.
As the third generation to head the organization founded by Mills' grandparents, former Pennsylvania Governor George M. Leader and his wife, Mary Jane, Mills leads over 2,000 co-workers caring for approximately 2,000 older adults on a daily basis.
"It is an honor to be selected by Central Penn Business Journal as a Woman of Influence and be included among this group of inspiring women," said Mills. "I came to work at Country Meadows because of my family's involvement, but also because of the opportunity to do something meaningful that could impact lives positively," she says. "Here, I get to do creative and interesting work that benefits both seniors and our amazing co-workers who have dedicated their lives to making life better for our residents."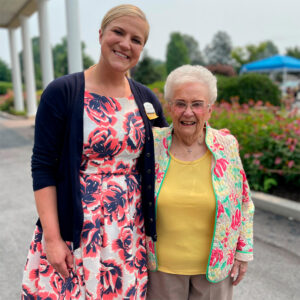 In her recommendation letter for Mills' nomination to CPBJ's 2022 Women of Influence, Nicole Osevala MD, FACP, Interim Chief, Division of Geriatric Medicine and Medical Director, Post-Acute Care Service at Penn State Health, wrote, "Innovative, resilient and committed to the community best describe the leadership Meredith has demonstrated during one of the most challenging times in our lifetime, particularly in long-term care."
This commitment to senior lives, their caregivers and the community shines in her leadership during the COVID-19 pandemic. She lobbied the state Department of Health for faster turnaround of COVID test results and expanded distribution of PPE. She established a COVID Community Health Support Center at the Country Meadows Mechanicsburg campus to serve COVID-positive patients from other area senior living communities who could not safely return home until recovered, taking the stress off of hospitals while providing patients with personal care. Through Mills' efforts, Country Meadows became one of the first assisted living communities in the country to treat COVID-positive residents and staff members with monoclonal antibodies. When the COVID-19 vaccine became available, Mills lobbied for early vaccine access for seniors and led Country Meadows' efforts to secure the vaccine for residents and staff.
Mills continues her advocacy for seniors and the senior living community by serving as an advisory board member of the Penn State University-Harrisburg Campus, board member of the Pennsylvania Health Care Association and an American Health Care Association/National Center for Assisted Living State Leader for Pennsylvania.
"As the President of the Pennsylvania Health Care Association (PHCA), I have been able to watch Meredith become a true leader in Pennsylvania's long-term care continuum. She is a passionate advocate for her residents and staff, an innovative thinker with far-reaching ideas that will pave the way for the future of our sector, and an inspirational captain for those working with her at Country Meadows," said Zachary Shamberg.
Central Penn Business Journal's Women of Influence honors high-achieving women for their career accomplishments. These women are selected based on their professional experience, community involvement, leadership and a commitment to mentoring. The honorees were selected by a panel of judges consisting of business professionals and previous winners.
Central Penn Business Journal is a multimedia news source that publishes a regular print and online edition and breaks news daily on its website, CPBJ.com. In addition, Central Penn Business Journal honors leading Pennsylvanians through nine annual awards events including Health Care Heroes, Women of Influence, Forty Under 40 and Game Changers.
Contact Us