Ecumenical expands memory care services to serve more local seniors
Ecumenical Retirement Community in Harrisburg expanded its Connections Memory Support Services to support seniors living with Alzheimer's disease or related dementia. The project aims to address the growing number of older adults living with cognitive impairments. In fact, one in nine people age 65 and older, more than 280,000 Pennsylvania seniors, are living with Alzheimer's disease. That number is expected to triple by 2050.
"We have definitely seen the increasing need for dementia care in the community at large, especially services delivered in a safe, secured setting," says Diana Ponterio, Senior Vice President of Operations. "The additional apartments allow us to help and care for more residents and reassure families about the safety of their loved ones."
The project in Building One of the three-building campus adds 18 small private apartments in a secure neighborhood delivering memory support services. Neighborhood areas create a warm, familiar environment delivering care in a smaller, quiet area to enhance quality of life for individuals with cognitive impairments.
"Residents vary in where they are in their cognition and, for some, large areas may add to their stress," says Campus Executive Director Gwen O'Neal, LPN. "This new area will allow us to provide more support and individualized care in a smaller environment."
The new area is the second secured neighborhood on campus offering memory support services. A larger 31-bed memory care unit offering private and shared accommodations will continue to operate in Building Three. "We will continue to offer a variety of accommodations for people with different needs," says O'Neal.
The new neighborhood has its own dining room where trained staff provide dining support and a common living space for residents and co-workers to gather to work on crafts, play memory games, socialize or watch movies as a group. A large outdoor fenced courtyard provides safe walking paths and areas to visit or simply enjoy a nice afternoon on the patio.
"The area also has a designated room for activities," says Ponterio. "We have designated programming for residents with memory challenges to provide opportunities for creative stimulation, brain strengthening games and fitness to support physical health."
"We really pride ourselves in our activities," says O'Neal. "Co-workers do a fantastic job engaging residents by paying close attention to each individual to fulfill their needs and help them to feel safe and know they are well cared for."
Despite the challenges of memory loss, Ecumenical Retirement Community's memory support programs aim to help residents lead happy, fulfilling lives by encouraging them to participate in activities, sharing memories, contributing to a purpose and enhancing connections and loving relationships with their friends, families and neighbors. Specially trained co-workers use the Validation Method of communication which helps them assist residents who may be confused or frustrated, redirecting the individual to another topic or activity thus reducing stress.
O'Neal says the project's silver lining is that existing Ecumenical Retirement Community residents may be able to stay on campus longer, moving into the memory support neighborhood if a higher level of care is required. "The need for memory support is high, and when we have a current resident in our personal care services who requires memory care, often we cannot keep that person on campus because our memory support neighborhood stays full."
She continues. "This project is especially exciting because it will help our current residents to age in place. We may be able to keep them on our campus, which is familiar for the person, rather than needing to move to another facility."
In addition to the secured neighborhood, Ecumenical offers a number of accommodations for individuals experiencing the early effects of memory loss in an unrestricted Personal Care setting. Services help residents live as actively and independently as possible, for as long as possible.
"Being able to serve more people experiencing cognitive challenges is desperately needed," notes O'Neal. "Our referral sources contact us frequently to see if we can accommodate a person needing secure services and, unfortunately, we are usually full. We are grateful to have this additional space and resources to serve more local seniors."
Click here to learn more about how Ecumenical Retirement Community's Memory Support program strives to enhance the quality of life for each and every resident.
Living with Memory Loss
Memory loss of loved ones can be one of the most challenging issues of aging. Learn how we can help.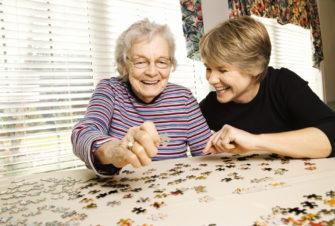 Memory Loss Services
Contact Us