Ecumenical certified as a Great Place to Work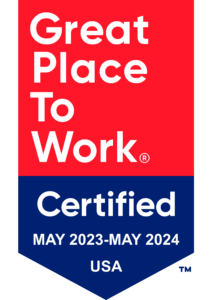 Ecumenical Retirement Community and its sister company, Country Meadows Retirement Communities, are honored to be CertifiedTM by Great Places to Work® for 2023.
During this year's anonymous co-worker survey, 81% of co-workers said that Ecumenical and Country Meadows both are a great place to work—24 points higher than the average for organizations in the United States.
"Creating a culture that values and prioritizes the well-being and growth of our co-workers is a top priority at Country Meadows and Ecumenical. The Great Places to Work Certification reaffirms our efforts and is a huge testament to our team and their commitment to our organization as well as their fellow colleagues and the older adults they serve," says Meredith Mills, CEO-Country Meadows Retirement Communities and Ecumenical Retirement Community.
The Great Place to Work certification process considered surveys completed by co-workers and evaluated more than 60 elements of co-workers' experiences on the job. These included employee pride in the organization's community impact, belief that their work makes a difference and feeling their work has special meaning. Rankings are based on co-workers' experiences, no matter who they are or what they do.
Click here for details on Country Meadows Retirement Communities and Ecumenical Retirement Community survey results.
Using this feedback, the Great Place to Work Trust Index Survey© assesses organizations on five principles—credibility, fairness, respect, camaraderie and pride—that define the overall concept of what an employee views as a great workplace.
"We applaud Ecumenical Retirement Community and Country Meadows Retirement Communities for seeking certification and publicly sharing its employees' feedback," said Dr. Jacquelyn Kung, of Great Place to Work's senior care partner Activated Insights. "These ratings measure its capacity to earn its own employees' trust and create a great workplace for high performance."
About Activated Insights and Great Place to Work
Activated Insights is the senior care affiliate of Great Place to Work, the global authority on high-trust, high-performance workplace cultures. Through its aging services certification program, Activated Insights helps Great Place to Work recognize outstanding workplace cultures in the aging services industry and produce the annual Fortune "Best Workplaces for Aging Services™" as well as other Great Place to Work Best Workplaces lists for Millennials, Women, Diversity, Small & Medium Companies, and various regions. Through its employee engagement platform, Activated Insights helps clients create great workplaces that outpace peers on key business metrics like revenue growth, profitability, and retention.
Contact Us