Celebrating Active Aging Week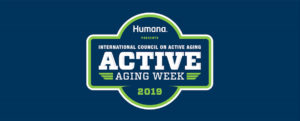 An editorial perspective from Michael Leader, President & CEO of Country Meadows Retirement Communities and Ecumenical Retirement Community
This week through October 7 is Active Aging Week. This holiday was initiated by the International Council on Active Aging (ICAA) to promote and celebrate the positivity of aging today. It also challenges society's diminished expectations of aging by showing that older adults can live full, rewarding lives regardless of age or health.
Outside the senior living industry, "Active" and "Aging" are seemingly opposites—and with some stereotypes, the punch line of many jokes. Granted, growing older has its hardships, as some of our residents will tell you. But our residents also will tell you after moving into our communities, they have rekindled a former hobby or passion or in most cases, started a new one. They are more active. More social. More engaged. Thus, more fulfilled than living alone.
A recent industry survey by ProMatura found that retirement community residents feel more in control of their lives and by a wide margin, believe their lives are better now than a year ago. When compared to people who have not yet moved into a retirement community, they are more likely to:
Stay healthier longer
Be less lonely
Try new activities
Participate in social events
Be more active
Enjoy life more
That is why we do what we do. My father and founder of Country Meadows Retirement Communities and Ecumenical Retirement Community, Governor George Leader, used to say, "It's not the quantity, but the quality of life we are concerned about. We are working to keep residents' spirits up and extend their Golden Years." Each of our co-workers contributes to creating active lifestyles for our residents through helping them get ready for the day; serving delicious meals while they socialize with neighbors; empowering them through fitness and therapy; engaging them with fun, educational and purposeful activities; driving them to appointments or events; maintaining the comfort and safety of their homes; and above all, showing respect and compassion.
We thank our co-workers for what they do every day to keep our residents engaged, active and fulfilled. And in turn, we thank them for helping to change the stereotype that retirement community residents are living otherwise. Happy Active Aging Week! (and that's no joke.)
Contact Us