We continue to work closely with the Pennsylvania Department of Health (DOH) on our COVID-19 safety measures and response. The DOH has assured us that we have done—and are doing—everything possible according to their guidelines. We test co-workers and residents when warranted and adjust communal dining, group activities and visitation as needed based on our corporate Clinical Team's recommendations. Any positive residents are isolated in their apartment supported by a dedicated, trained team or temporarily transitioned to our sister community, Country Meadows' West Shore Community Health Support Center dedicated recovery unit. Each Wednesday we post any campus COVID-related activity.
Campus COVID Experience: 11/25/2020
Residents: We have reported to DOH five COVID-positive residents. Three residents from Building 2 tested positive as part of our blanket testing. One resident from Building 3-Independent Living, tested positive offsite. These four residents are offsite and will not return to campus until fully recovered.
In addition, one resident from Building 1 tested positive. This resident will be recovering offsite and returning upon a full recovery.

Co-Workers: We have reported to DOH four COVID-positive co-workers—one from Building 1, two from Building 2 and one from our Connections Memory Support Neighborhood in Building 3. All four co-workers are quarantining at home and will not return to campus until meeting DOH guidelines.
Please know:
Testing protocols: We are pleased to share Ecumenical Retirement Community has greatly enhanced its capacity to perform both PCR and rapid COVID-19 testing by trained nurses. In compliance with Centers for Medicare and Medicaid Services and state DOH protocols, testing is taking place more frequently where warranted on every campus. As such we will refrain from including the testing activity in our updates as it is subject to change depending on the clinical team's recommendation. Rather, residents will be notified directly if they will be included in any testing. Then upon receipt of results, we will inform individually any residents and their families whose tests are positive, as we have in the past.
Notification of health concerns: Our team will contact you directly if they have any health concerns about your loved one. For general company updates, please visit EcumenicalRetirement.org/Alert or contact our corporate team at Ask Us message line: Questions@ EcumenicalRetirement.org or
1-855-772-2734.
Mitigation efforts: The team will continue using our infection control equipment in addition to conducting our daily sanitizing efforts throughout the campus. Click here to watch a video about these efforts.
Commitment to safety: We remain steadfast in our comprehensive clinical, direct-care and infection control protocols and measures to help reduce the spread of the virus and keep our residents and co-workers safe.
Thank you for your continued support.
Are you a designated resident family member and want to be notified about any new COVID cases on campus? Designated resident family members can elect to receive email notifications directly about any COVID activity and other related important information. Click here to sign up for notifications.  NOTE:  Only residents' authorized representative, attorney-in-fact or emergency contact can be added to the list.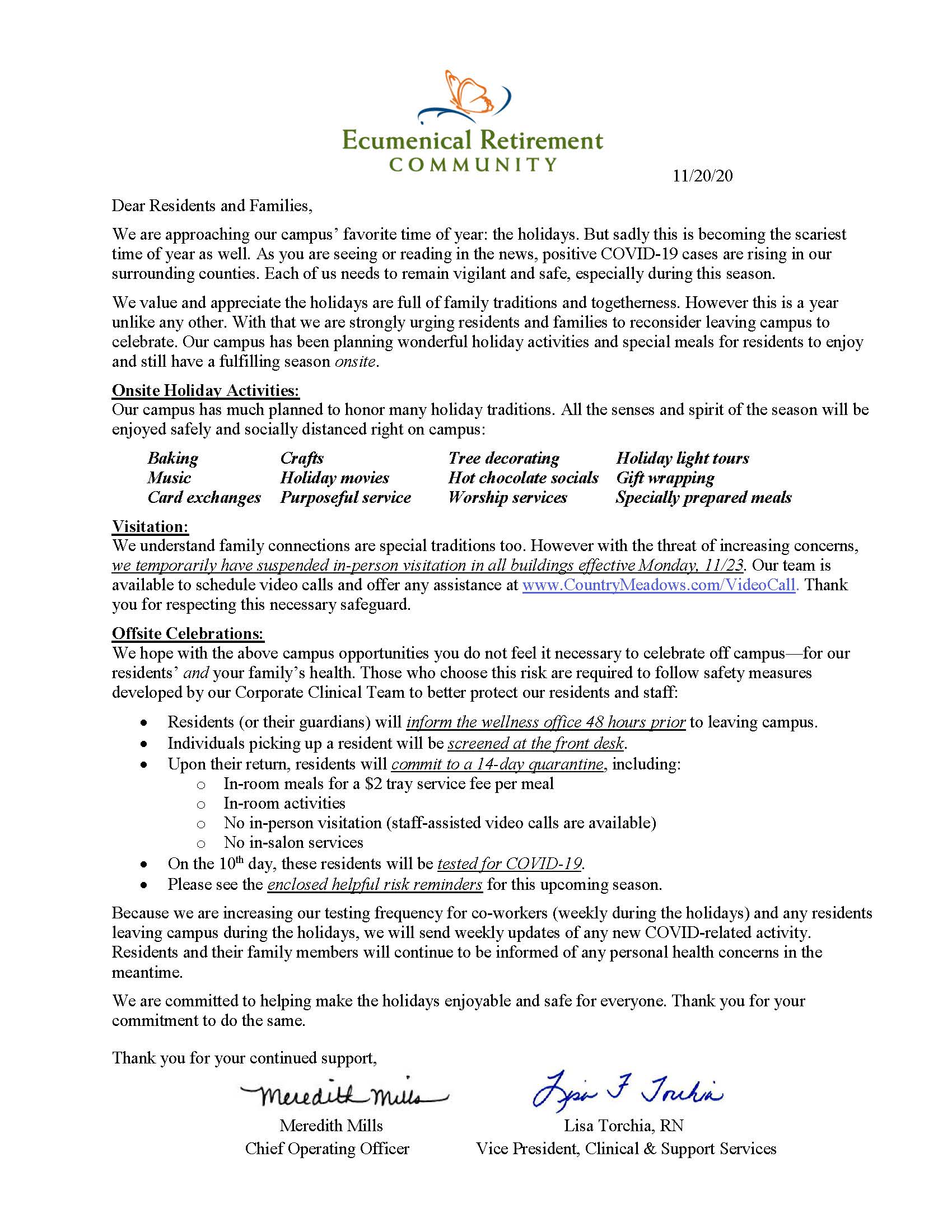 For our visitation policy, click here